In this article, discover our top tips to help you make the most of your time exploring the best of London on a budget.
If you are planning a visit to London you will probably already be aware of just how expensive it can be! London is not a cheap city but it doesn't mean it can't be explored and enjoyed even if you are on a budget.
I have lived and worked in London and also visited as a tourist many times over the years. This post is a culmination of all the tips and tricks I have learnt in order to save money and explore London on a budget.
Whether you are planning for one day in London on a budget or two, three or four days (or longer) it is possible to keep to a budget.
Work out how much you have to spend per day (after accommodation costs), which London attractions you really want to see (as you will find out there are many free museums and galleries), the best options for getting around, what and where you plan to eat (markets/restaurants/takeaway/sandwiches)
I have tackled each of those areas below to help you make the most of your trip when on a budget.
I recommend also reading my step by step guide to planning your trip to London which is designed to remove the stress and overwhelm and ensure you make the most of your visit.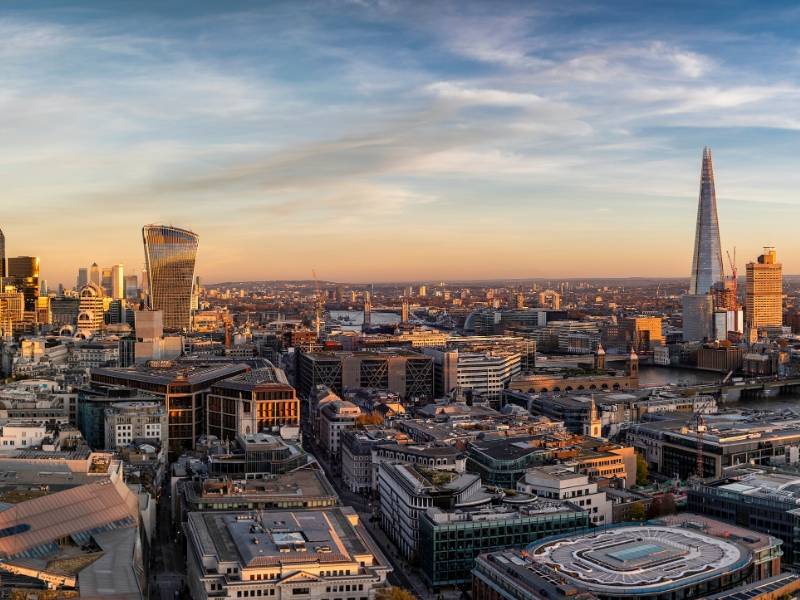 Budget London – Travel Tips and Tricks
Where to stay – budget accommodation options in London
When visiting London this is the one area I would highly recommend that you push your budget to the maximum you can afford. I have stayed in numerous hotels in London over the years and one thing I have learnt is that you generally get what you pay for.
Stay as close to central London as you can – within Zones 1 and 2 on the Tube map. London is tiring and if you have booked a hotel that is further out not only will you be spending more time on public transport but you will also (possibly) regret it at the end of a long day of sightseeing.
Read up about the different areas and choose one that suits your needs and your budget – you can find out more in my London accommodation guide which highlights the various sights and attractions in each area as well as recommended accommodation choices to suit all budgets.
We find renting an apartment a great budget saving option as you can cook your own meals, prepare a packed lunch and keep the fridge stocked with drinks. (We are big tea drinkers so access to fresh milk for a cuppa is important!)
There are a number of chain hotels in London which also offer good budget accommodation.
Getting around London on a budget
Walking
Walking is a great way to see London and it's free! (Make sure you pack comfortable walking shoes)
The centre of London is fairly compact so you can see a lot of the major sights by planning your itinerary around sights and attractions that are close together and walking between them.
If you prefer to take a guided walking tour rather than doing it independently there a number of free walking tours available (a tip is generally the norm after the tour) some of which are aimed at the backpacker market so do a little research if you decide to take a free tour (I plan to try out a number of these tours when I am next in London so watch out for that post)
Otherwise, I recommend walking tours through Take Walks (not necessarily a budget option but highly recommended) or Get Your Guide. There are lots of themed walking tours in operation to suit every budget.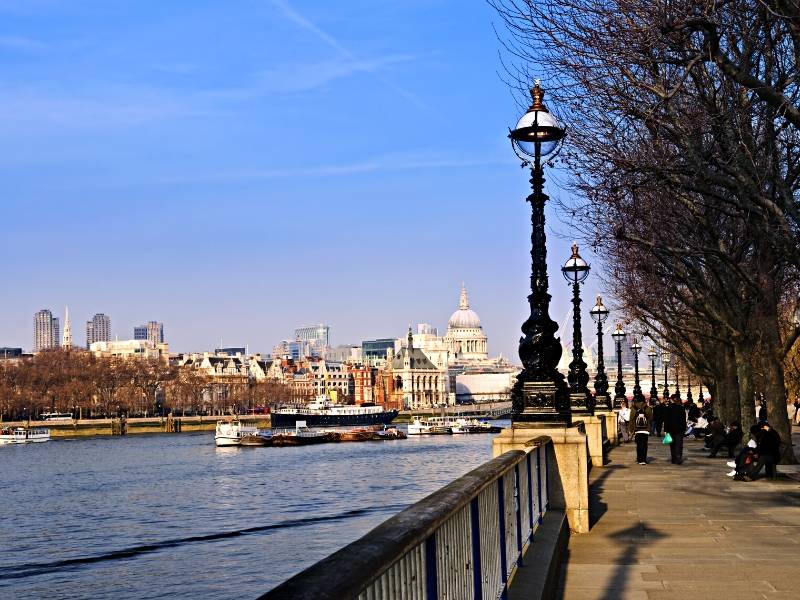 Using Public transport
The best way to save money on public transport in London is to purchase an Oyster Card.
The card is a credit card-sized payment method for public transport in London and provides access to London's Underground (the Tube), bus network, trams, Docklands Light Railway, London Overground trains and most National Rail services at a reduced rate.
The card also entitles you to a 10% discount on most Thames Clipper river bus services and a 25% discount on the Emirates Air Line.
You can top up your Oyster Card at any Tube Station as well as in a number of shops and information centres in London.
I recommend purchasing a visitor Oyster Card before you arrive so you don't have the hassle of arriving at the airport after a long flight and having to buy one then.
To save money on the Tube, DLR, London Overground services and National Rail services avoid travelling at peak times (Monday to Friday 06.30 – 09.30 & 16.00 – 19.00) At these times peak fares apply.
Buses and trams charge a flat fee of £1.50 regardless of the time of day you travel.
Good to know – Bus tours are a popular way to see the city but if you are on a budget I recommend catching the number 11 bus from Liverpool Street Station.
The route takes you through the City of London and past St Paul's Cathedral, Trafalgar Square, the Houses of Parliament and Westminster Abbey.
Read more in my complete guide to getting around London by public transport.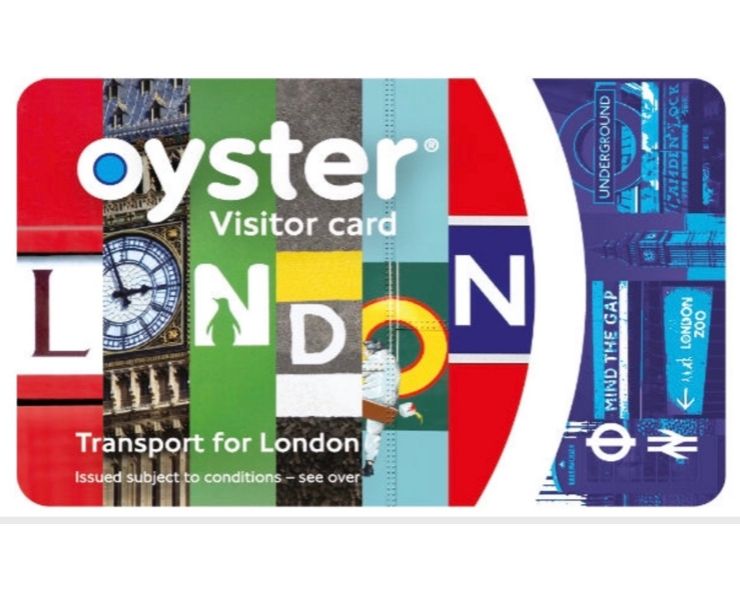 Cycle
Another option ( in my opinion for those who enjoy life on the edge!) is to cycle around London.
So-called 'Boris Bikes' the Santander Cycles can be hired for £2 for 24 hours (if you use the bike for less than 30 minutes there is no additional charge but after that time you pay £2 every 30 minutes – this is on top of the £2 for the 24 hour access)
You can read more about the Santander Bike scheme here.
Good to know – look out for the maps giving your location and directions to sights and attractions (including the walking distance)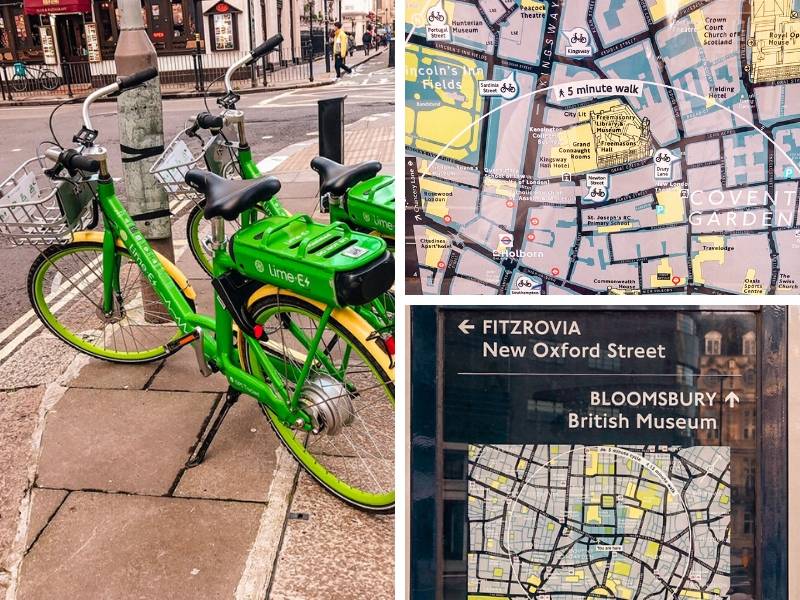 Uber Thames Clipper River Bus
Taking a river cruise along the Thames is popular with visitors to London but it's not exactly a budget-friendly option.
To save money I recommend jumping on a Thames Clipper River Bus service! Use your Oyster Card for a 10% discount.
My favourite route is from the London Eye (Waterloo) pier to Greenwich Pier. (There is so much to see and do in Greenwich so don't miss it off your London bucket list)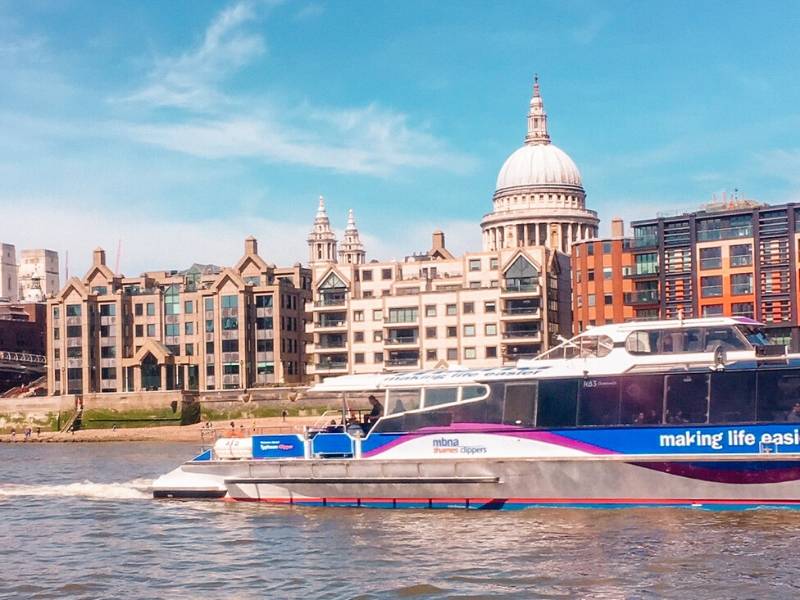 London sightseeing on a budget
There is so much to do and see in London it can be difficult to know where to start when planning an itinerary.
The good news if you are on a budget is that there are lots of free things to do in London. This includes some of arguably the best museums and art galleries in the world – all for free!
Museums & Galleries
Many (though not all) of London's museums and art galleries are free including the British Museum, Natural History Museum, National Gallery, Imperial War Museum, Science Museum Victoria and Albert Museum, the Tate Modern and Tate Britain.
If you aren't sure which of the museums to include in your itinerary why not take a virtual tour to get a flavour of what they each offer?
Most museums open around 10 am and close at 5/6 pm. Late night opening hours are in operation for a number of the museums (Friday night is a popular option) but check with the relevant museum before making plans.
If the museum you want to visit is not free (The Churchill War Rooms for example) check if entry is included in the London Pass. This can be a cost-effective way to see those attractions, museums and sights that have an entry fee.
The London Pass also includes fast track entry to many places which I think is always worth it! While we Brits are great at queuing it doesn't mean we like to waste precious holiday time practising our skills!
A free bus tour is another perk of the London Pass – definitely worth weighing up the benefits if you have a lot you want to see in London.
You can find out more about what is included in the London Pass on my London Bucket List post or look at pricing options here plus I have an entire article dedicated to reviewing the London Pass!
Parks
London has some beautiful parks spread throughout the city. Great places for a leisurely stroll, a picnic or to take a break from the hectic nature of London.
Of course the parks are free too which makes them a perfect destination if you are visiting London on a budget.
Kensington Gardens is a favourite for fans of the late Princess Diana. Here you can find the Diana, Princess of Wales Memorial Playground and fountain as well as the bronze statue of Peter Pan.
Other parks I recommend visiting in central London include St James's Park in Westminster, Hyde Park and Green Park.
For great views over London head to Primrose Hill on the north side of Regent's Park.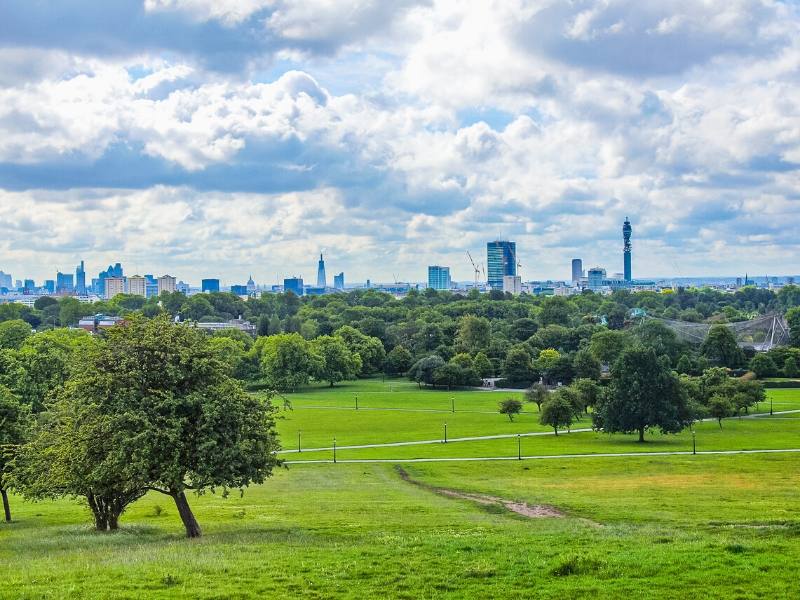 Theatre
Taking in a show while in London is an absolute must for theatre lovers. I have seen a few including Wicked and The Lion King in London's West End and highly recommend booking a show!
However, the tickets can be pretty expensive. I do recommend booking tickets in advance online if you have a particular show you really want to see or are bothered about your seating options.
Otherwise head to the TKTS booth in Leicester Square where you can purchase half-price and discounted theatre tickets.
The Sky Garden
The Sky Garden is London's highest public garden and is located at 20 Fenchurch Street in the so-called "Walkie Talkie" building.
Access to the garden is free of charge (yay!) but you must book tickets. Tickets are released up to 3 weeks before and are only valid on the date and time stated.
We booked tickets in December 2019 for our visit in January 2020 and once I had the tickets confirmed I planned our entire itinerary for that around the Sky Garden.
Expect a queue and to go through security but once you are on the 38th floor (after a rapid ride in the lift) you have the freedom to explore the Sky Garden and enjoy the views of London.
Hopefully, you will get better weather than the day we were there but do book and go – it is free after all!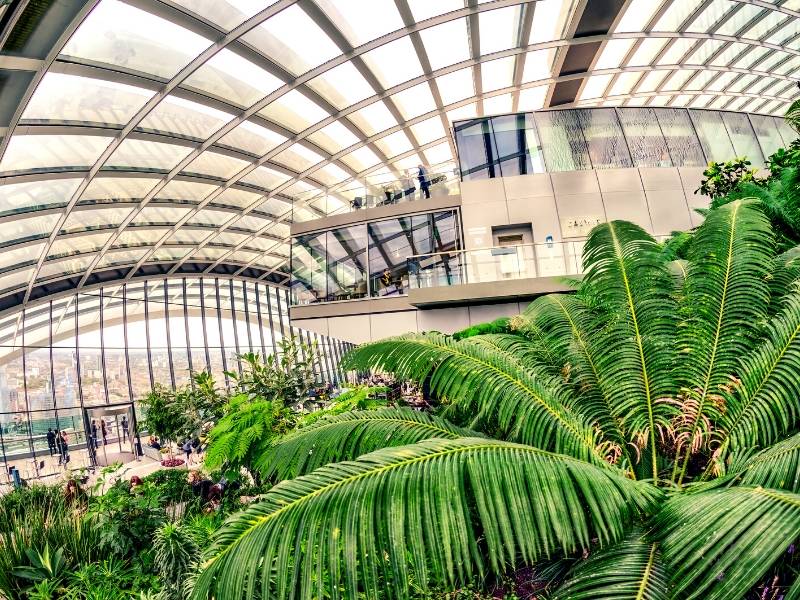 Changing of the Guard at Buckingham Palace
Another free (and very British) tradition to experience in London is the Changing of the Guard at Buckingham Palace.
The ceremony takes place on Mondays, Wednesdays, Fridays and Sundays every month except June and July when it is daily. The changing of the guard occurs at Buckingham Palace, St James's Palace and Wellington Barracks so you have 3 opportunities to observe this centuries-old tradition.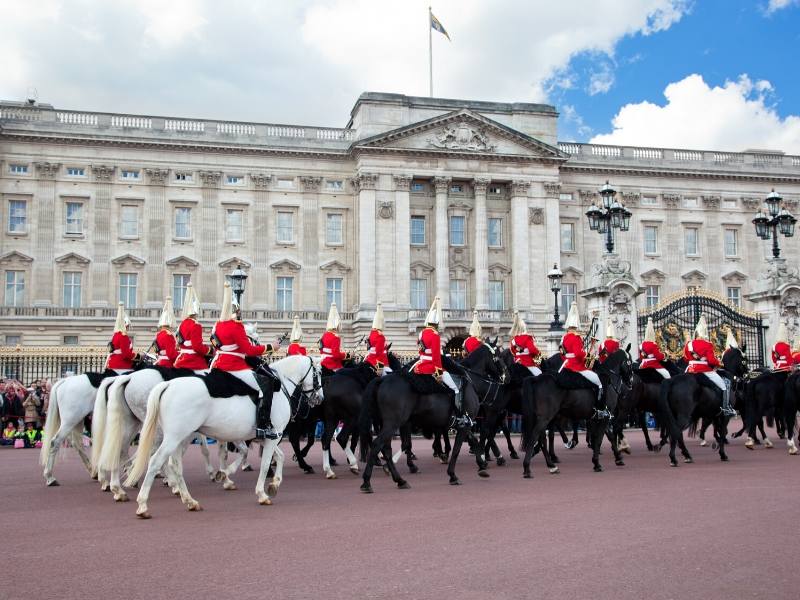 Food and drink on a budget
Food and drink costs can really mount on holiday and I know we are always looking at ways to save money in this area.
Booking a hotel with breakfast included or an apartment where you can make your own meals is one way to save.
If you are out and about in London these are the tips I have picked up over the years to reduce meal costs.
Markets & Food Halls
London has some great street food and many of the markets offer a variety of options to suit everyone's tastes.
One of the great things about London is the sheer variety of food on offer with cuisines options from around the globe.
Head to Borough Market the oldest and probably the best foodie market in London. There are restaurants, cafes and pubs as well as market stalls to peruse – a real foodies heaven!
Located in Southwark (nearest Tube stations are London Bridge, Borough and Southwark) the market is open Monday – Thursday 10 am – 5 pm (limited market on a Monday and Tuesday though) Friday 10 am – 6 pm and Saturday from 8 am to 5 pm. Go early it's a popular place!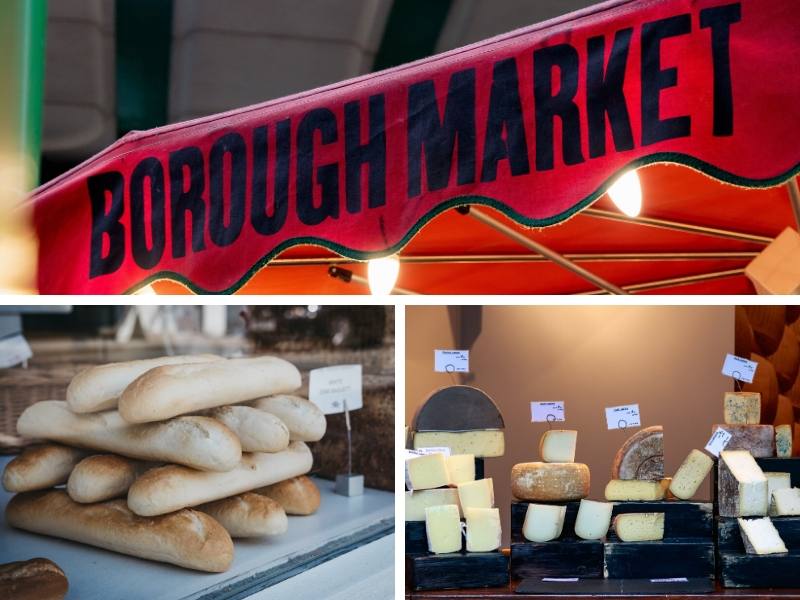 Meal deals
Many of the great British supermarkets such as Tesco, Sainsbury's, Marks & Spencers and the upmarket Waitrose have smaller shops in London.
These 'Express' or 'Food Only' versions of their stores offer "Meal Deals" These generally consist of a sandwich, drink and packet of crisps from a fairly large selection.
Boots (a large health and beauty retailer) also offers their version too.
We are big fans of Marks & Spencer food and love putting a picnic together to take with us on a day out on the train or popping in for a "Meal Deal" for our lunch.
Another great option for sandwiches is Pret a Manger. Offering a wide variety of baguettes, wraps, salads, soups as well as sandwiches they are a popular choice.
Chain restaurants
There are some excellent chain restaurants in London that are budget-friendly.
We love Nandos (Chicken) but Wagamama (Japanese), Flat Iron (steak), Pho (Vietnamese) Yo Sushi!, Masala Zone (Indian), Giraffe (World), Pizza Express are all worth checking out if you are on a budget.
Afternoon Tea
Having an afternoon tea is another bucket list experience I am often asked about. And wow does London have some absolutely fabulous afternoon teas!
There are also themed teas available (often based on theatre productions or films based in London) which are pretty spectacular!
Unfortunately, most of them come with a hefty price tag too! If you want an afternoon tea for less than £20 – £30 a head it is best to forget the Ritz, Fortnum & Mason or The Shard.
Try The Wolseley in St James's which serves one of London's best budget afternoon teas or the Bluebird in Chelsea for their delicious version of the traditional afternoon tea.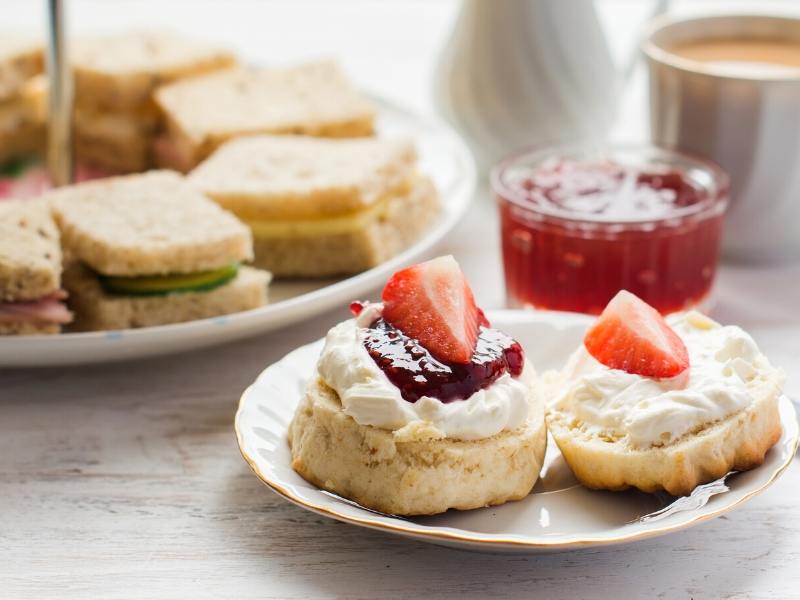 Budgeting for your London trip
Hopefully, these budget tips make visiting London on the cheap a slightly more achievable target for you! Even if you are not on a tight budget it is always good to know how to save money when you visit London.
If you are looking for more ideas to plan your visit to London or (further afield in the United Kingdom) my travel planning guides are a great place to start.
Plus: