Planning your first visit to London? Feeling overwhelmed? We have you covered! In this article, I share all my best tips for visiting London. Follow these steps and I will show you how to plan your trip to London and make the most of your visit.
London is one of the most popular tourist destinations in the world and certainly the number one destination for visitors to the UK. If this is your first time visiting London it can however feel quite overwhelming when it comes to planning your trip.
Common questions you may be considering include
These and a myriad of other questions can make planning your visit seem complex and just too hard.
Read on for London travel tips and practical actionable steps to help when planning a London trip and reduce stress.
How to plan your trip to London – top travel tips for planning your visit to London
Step 1 – Decide when to visit London (and for how long)
(Tip – If possible avoid visiting London during peak times)
Deciding when to visit the UK is the first step in my UK trip planner and if London is your first destination you may also be considering just how long you need to spend in London.
London is the most popular city in the UK for visitors from all over the world and is busy all year round. However, it gets even busier and more crowded during school holiday periods, particularly in the summer months of July and August though London in spring is also a popular time to visit too.
July and August is peak tourist season in the UK with many Brits as well as overseas visitors heading to the capital for their holidays.
While London is not a particularly budget-friendly destination at any time of year you will find hotel prices are particularly steep during peak season.
Weekends and public holidays* can also be fairly hectic in London especially around popular shopping areas such as Oxford Street and Covent Garden. Museums and art galleries can also be more crowded than usual.
London in December is always busy and if you (like me) can't resist the beautiful Christmas lights, markets and shops keep in mind that the weekends before and after the holidays are the worst. If you plan to visit London in winter but want to avoid the busy season you will find January and February is quieter and as it is low season prices are lower too.
Thousands of visitors throng the streets and fill underground stations. If you panic in crowds or in confined spaces avoid the underground around this time, particularly around Oxford Street, Piccadilly Circus and Covent Garden.
My answer to the question, 'How long should I plan to stay in London?" is at least 3 to 4 days. This should enable you to see and enjoy some of London's major sights and landmarks.
Public holidays (called 'Bank' holidays in the UK are December 25/26, Jan 1st, Good Friday and Easter Monday, the first and last Mondays in May and the last Monday of August)
Read more – When is the best time to visit London and the UK?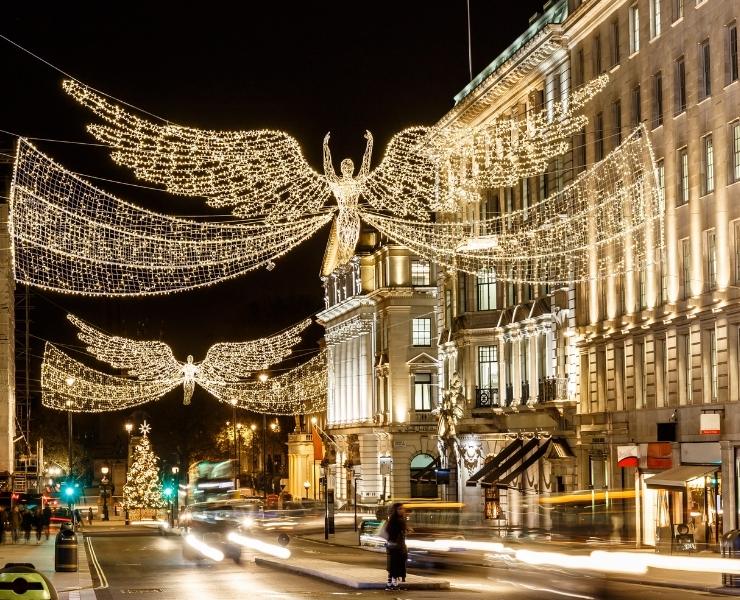 Step 2 – Book your London accommodation
(Tip – Stay in central London)
Hotels are expensive in London and it is tempting to book accommodation further out of the capital. I would advise against this.
When planning your UK travel budget do keep in mind that accommodation costs in London may be the most expensive of your trip.
Areas I would recommend to stay in include the West End – Covent Garden, Soho, Leicester Square, Westminster or South Bank and Bankside. These are all central locations with most of London's top sights within walking distance and convenient access to the Tube.
Read more – Where to stay in London (a guide to the best areas)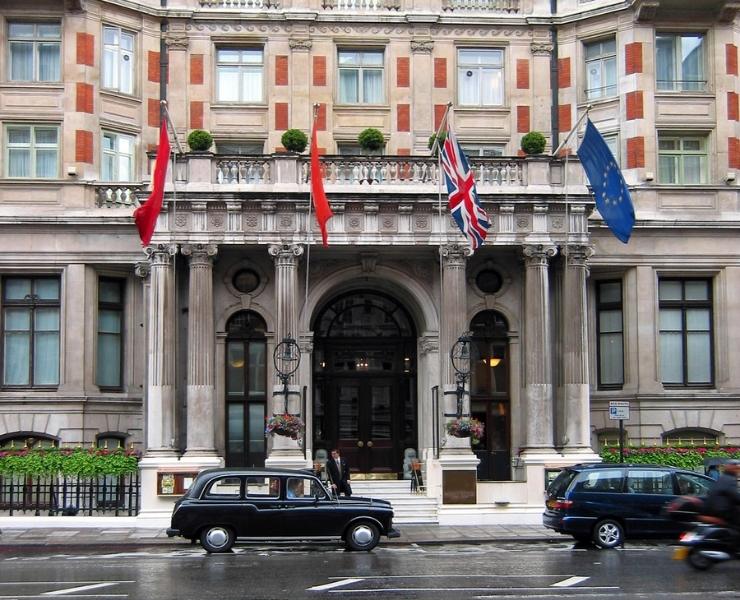 Step 3 – Plan your itinerary
(Tip – Don't try to do and see everything)
It may be impossible to see and do everything you want when you visit London. It is easy to over plan and overestimate how much you can do. It can also be exhausting.
I would recommend identifying your "must-do's and must-see's" when you plan your travels to London and developing your London itinerary around those.
Read more – Ultimate London bucket list (including the main landmarks and attractions)
A. Book tickets and tours in advance
I recommend booking tickets and tours in advance especially if visiting during peak times. It can be difficult to purchase tickets on the day for many London attractions such as the London Eye for example.
Tickets for some attractions may also be cheaper if you purchase in advance.
B. Consider purchasing a London sightseeing pass to save you time and money
To save time and money when visiting London for the first time I would consider buying a sightseeing pass.
One of the most popular is the London Pass.
The London Pass includes free entrance to 80 attractions in London (including the Tower of London, London Zoo, the View from The Shard and many more) plus a one day Hop On Hop Off bus tour as well as discounts on shopping, dining, and entertainment. It comes with priority entrance to attractions so you can skip the queue and avoid wasting precious holiday time.
Which pass you purchase will depend on what you plan to see and do. The London Pass is a great option if you plan to see 2 or 3 of the attractions every day but it may be a case of calculating the costs of entry to each attraction versus the cost of a pass to decide if it is worthwhile for you. Read our complete review of the London pass!
Another pass available is the London Explorer Pass where you can create your own tour of London with a pass to 3, 4, 5 or 7 top attractions
There are also lots of excellent tours of London available to book. Choosing the right sightseeing or themed tour of London can be a little overwhelming so use my comparison guide to the best walking tours of London to help you to decide which tour is right for you.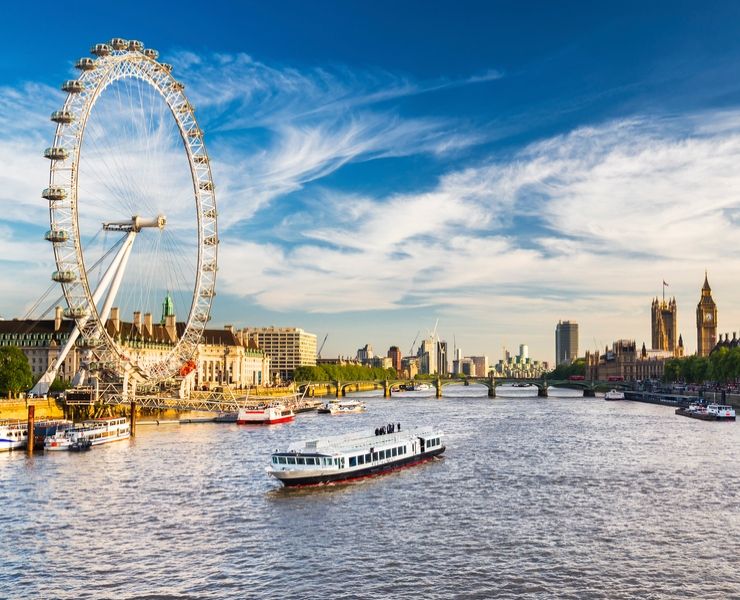 C. Include some of London's free attractions and sights in your itinerary
Visiting London is not cheap so it's good to know that there are lots of free things to do there. Many museums and galleries are free of charge for visitors. The British Museum, Tate Modern and Natural History Museum are free and very popular with visitors.
The Changing of the Guard at Buckingham Palace is another popular (and free) attraction that should not be missed.
Enjoy a stroll around one of London's many parks. In summer head to Primrose Hill with a picnic for great views across the city. There are lots of markets to visit too including Borough Market, Brick Lane and Portobello Market.
The Sky Garden (London's highest public garden) is another popular free attraction in London though you will need to book a ticket to ensure you can see them. (Bookings open 3 weeks before – click here to book your free ticket to The Sky Garden)
Read more – 32 free things to do and see in London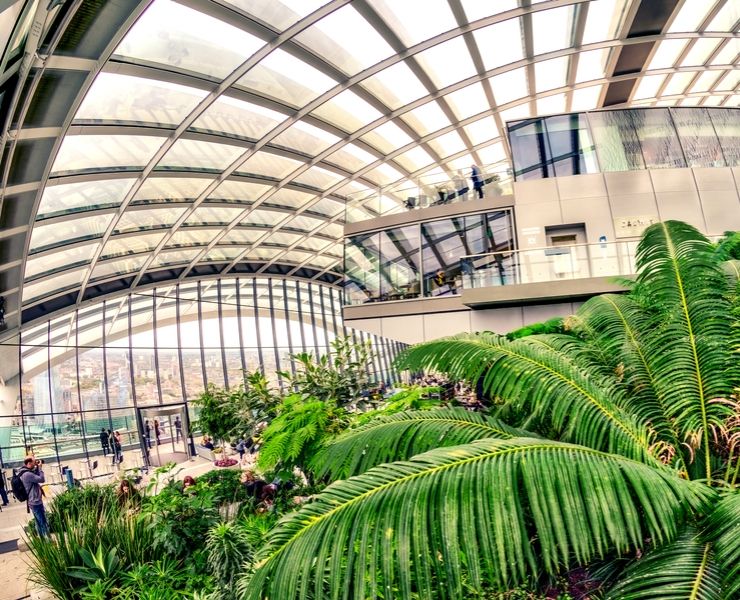 Step 4 – Planning a London trip; consider how you will get around London
(Tip – Buy an Oyster card)
A. Use public transport including the London Underground (the Tube)
I would NOT recommend hiring a car and driving in central London. I speak from experience as I was required to drive in central London when I worked there and it is a stressful experience.
It is much easier to use the public transport system (the Tube, trains, buses, trams, light railway, trains)
While the Tube is the quickest and easiest way to travel around London don't use it all the time as you won't see much of London if you spend your time travelling underground.
I recommend booking a hop-on hop-off bus tour (read our review of the best London bus tours) or jumping on one of London's famous red double-decker buses to see the main sights as it's a great way to orientate yourself with the city.
One of the top sightseeing bus routes to take is Route 24 from Pimlico to Hampstead Heath (catch the bus from Victoria) which passes some of London's most famous sights including Westminster Cathedral, Downing Street, Trafalgar Square before continuing onto Camden Town and Hampstead Heath.
Good to know – Keep in mind that peak times of day to travel in London are 06:30 to 09:30 and 16:00 and 18:00 Monday to Friday when people commute in and out of London for work. It is cheaper to avoid these times on public transport and travel during off-peak for better prices.
LEARN MORE – Complete guide to getting around London on public transport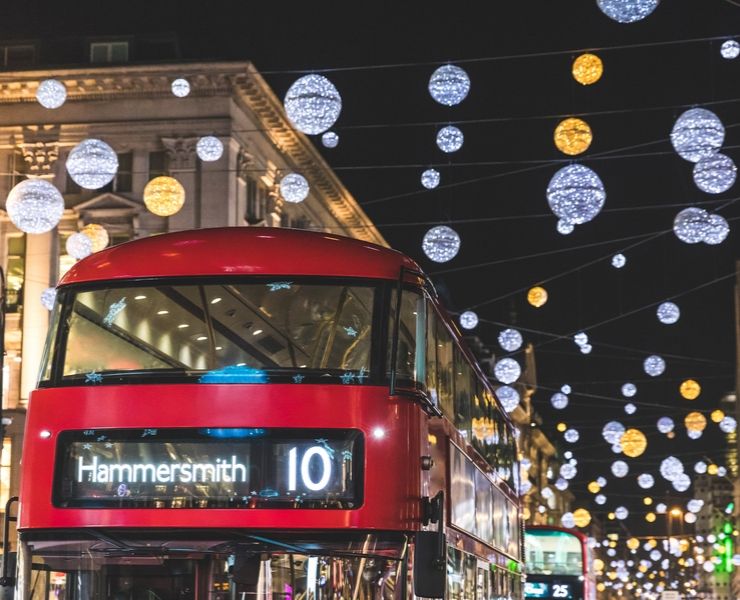 B. Purchase an Oyster card for use on public transport
An Oyster Card is an electronic ticket that is preloaded with credit and is used to pay for public transport in London including the Tube, Overground, trams, buses and boats. Read more about Oyster Cards.
I recommend purchasing an Oyster Card as it is a cheaper option than buying single-use tickets.
Visitor Oyster Cards are available if you are visiting London from overseas. The cards can save up to 50% off regular fares, are accepted everywhere and will save you time on arrival in London.
→ CLICK HERE TO PURCHASE YOUR VISITOR OYSTER CARD

How to use the Oyster card
To use the Oyster Card simply tap on the yellow card reader when you enter a station and tap off again when you exit. There is a maximum daily amount that can be charged.
Alternatively, you can also use a contactless credit card and tap on and off as you enter and leave tube stations.
Children under 11 travel free on the London Underground, Docklands Light Railway and buses and do not need their own ticket. Children aged 11 – 15 will need their own Oyster Card but can get a 50% reduction in fares for up to 14 days.
If you need to top up your card during your trip you can do it at a station or in over 4000 shops around London. If you have money left on your card before you leave London you can get a refund (over £10) or keep the card for your next visit.
Good to know – When using an Oyster card on a London bus swipe the yellow card reader as you get on the bus. Do not swipe it again as you get off! You can't buy tickets using cash for buses in London so you will need an Oyster card or a contactless credit card.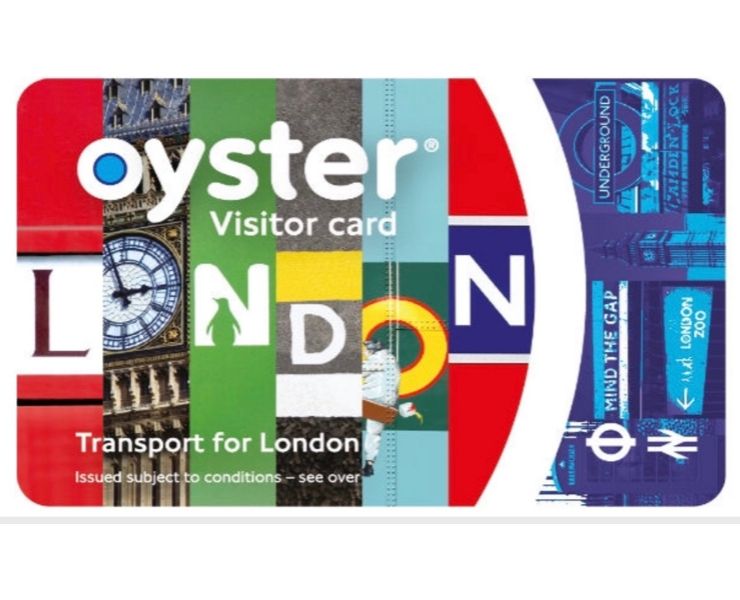 C. Hire a Santander bicycle or take a river cruise on a Thames clipper
You will see Santander bicycle docks all around the city. These were introduced by the now Prime Minister Boris Johnson when he was the Mayor of London.
Bikes are charged at £2 for the first 30 minutes and you will need to use the Santander bike app to enter your credit card details to rent one.
Alternatively, if you like the idea of cycling in London but are a bit nervous why not book a bicycle tour with a guide?
Another great way to experience London is to take a river cruise. I recommend jumping on a River boat service run by Thames clipper to Greenwich from Westminster. Oyster Cards are valid for use on the clippers too so no need to worry about buying a ticket!
Alternatively, why not take book a boat trip or cruise along the Thames – read our comparison guide to the best Thames cruises here.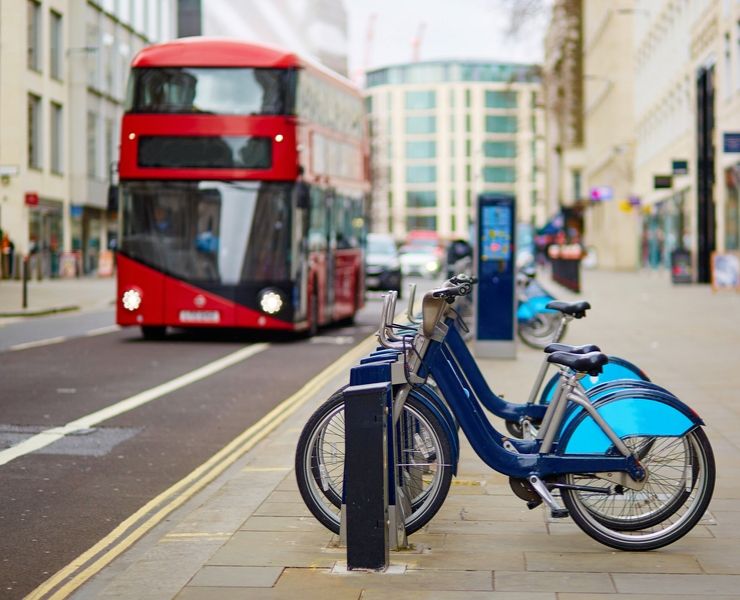 D. Catch a London cab!
London cabs are synonymous with the capital and I would recommend travelling in one at least once during your London visit.
Yes, they can be pricy but there are times when I would advise that you take a London cab rather than public transport. For example, don't struggle on the underground with large suitcases – it is not the place to take large items of luggage.
If you are flying into London you have a number of options to travel into the city. You can either book a transfer direct to your hotel or take the Heathrow Express to Paddington then a cab to your hotel (or if you are landing at Gatwick Airport take the Gatwick Express to London Victoria then get a cab to your hotel from there)
Read more in my guides to the best ways to travel from Heathrow to London or from Gatwick into London.
How to hail a London cab
Look for a cab with the light on top displaying the word "TAXI" as that means that it is available. Once you hop in and drive off the light is switched off.
Stick out your arm when you see the taxi (make sure you are standing somewhere the taxi can stop)
Once the taxi has pulled over go to the front window and tell him where you want to go.
You will notice the meter clicking over as you drive to your destination.
Some London cab drives are very chatty and have some interesting stories to tell – I always ask if they have picked up anyone famous in their cab!
Once you have arrived you will be told the final cost. I round up to the nearest £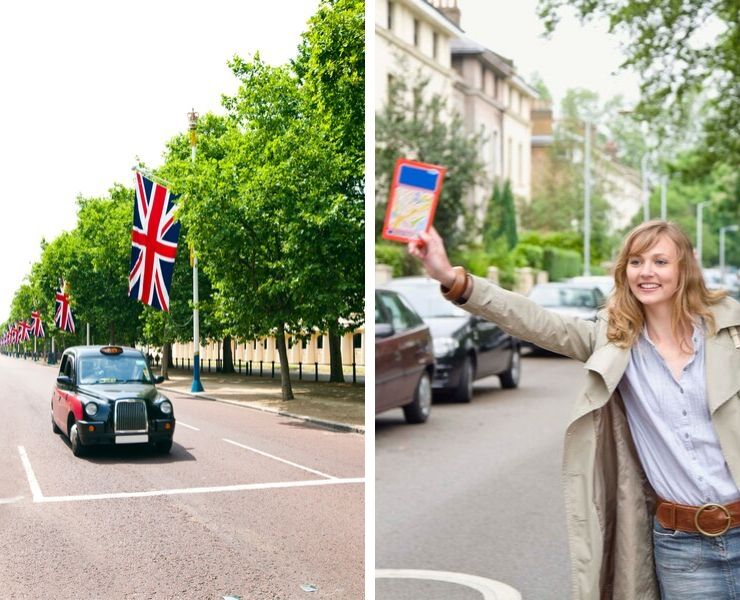 Step 5 – Plan where (and what) to eat in London
Tip – Visit markets and supermarkets for budget lunches and picnic options
Although the UK may not be famous for its cuisine London really is a fabulous destination for foodies.
I would recommend sampling some traditional English food and while this list isn't exhaustive here are some dishes to try.
Afternoon tea – there are lots of fantastic afternoon teas available in London from the classic Ritz afternoon tea to themed afternoon teas including one on a red London bus!
Fish and chips
Sunday roast with Yorkshire pudding
Jellied eels
Pie and mash
Strawberries and cream (A Wimbledon classic)
An English pint of beer in a traditional English pub with a bag of pork scratchings
A full English breakfast
If you are simply looking for a sandwich for lunch pop into a Pret a Manger. This UK sandwich shop chain sells baguettes, sandwiches, wraps, salads at a reasonable price.
Supermarket chains such as Tesco, Sainsbury's, M&S and Waitrose are also good for sandwiches, snacks and drinks.
Borough Market is London's most famous food and drink market offering diners a wide choice of restaurants, pubs, bars and cafes.
To save money eat at popular budget restaurant chains such as Nandos, Wagamama, Pizza Express, Pho, and Cafe Rouge.
Read more – 20 traditional English foods to tempt your tastebuds

Step 6 – Consider adding a day trip from London into your itinerary
Tip – If you are nervous about travelling independently there are lots of tours available which combine 2/3 of the most popular destinations such as Windsor/the Cotswolds & Bath into a one day trip.
If you have enough time in your UK travel itinerary why not take a day trip from London by train?
Popular day trips to the South East and South West of London include Bath, York, Oxford, Stonehenge and Blenheim Palace to name a few. There are also some fabulous castles near London which make easy day trips.
If you really feel adventurous why not book the Eurostar to Paris? It will be a full day and busy but it is doable (my husband once met me in Paris for coffee via the Eurostar!). Click here to read my top tips for first-time visitors to Paris
Discover 17 of the best day trips to make from London in my complete guide.
⇒Click here for prices and to reserve your Eurostar ticket to Paris!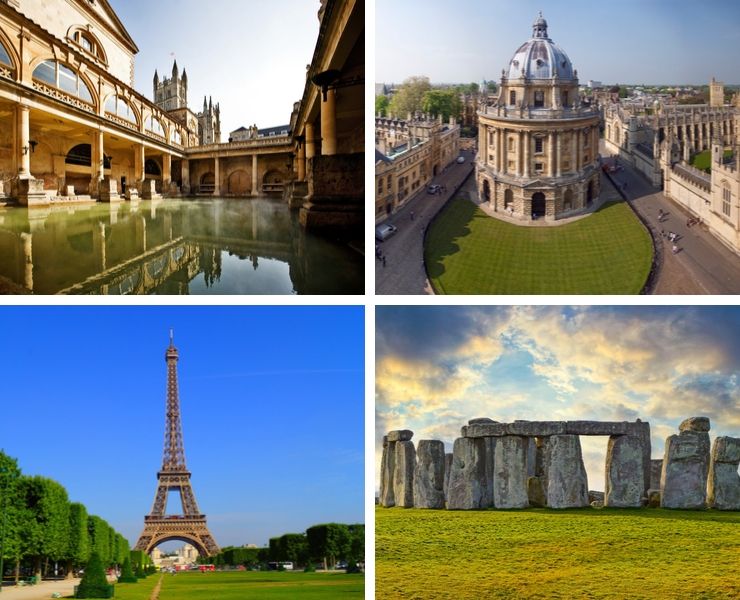 Insider tips for first time visitors to London
Do be careful with your belongings in London. Unfortunately, there are pickpockets around so I would recommend using a pickpocket-proof bag/backpack when you travel. Read more about pickpocket bags and why I highly recommend using them in my guide to the best anti pickpocket bags and backpacks.
Pay attention when withdrawing money from ATMs. Card skimming is a problem particularly around popular tourist destinations such as Oxford Street. If anything looks suspicious do not use the machine. If possible only use machines in banks.
Tipping is not expected in the UK – leave 10% for good service but do check your bill in case a service charge of 10 – 12.5% has already been added. If you take a cab round up the fare to the nearest £
Vehicles drive on the left in the UK. Pay attention when you cross the road because if you are used to driving on the right you will look the wrong way! Always cross at traffic lights and don't jaywalk. London roads are busy and you need to concentrate when crossing them.
It can be very hot on the underground at any time of year. In winter shops can also be stifling. I recommend wearing layers so you can cool off if necessary. Carry a bottle of water too to stay hydrated.
At the time of writing this article, Big Ben is covered in scaffolding for essential repairs. The scaffolding is now scheduled to be removed by spring 2022.
Visiting London always involves lots of walking so ensure you wear comfortable shoes.
The weather in London can be very temperamental and change rapidly (it is a myth though that it rains all the time) It can actually be very hot in London in summer. Read my essential packing list for London and the UK so you know exactly what to bring for your trip.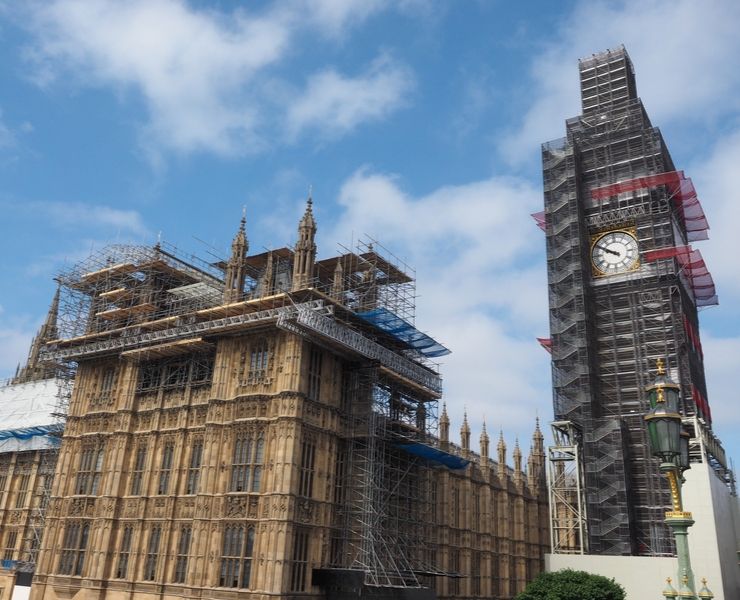 FAQs – Planning your first visit to London
These are the most frequently asked questions about visiting London that come up in my Facebook group (Why not head over to my London and UK travel planning group where you will find a friendly community of like-minded travellers to chat to or ask for advice about your UK travels)
When is the best time of year to visit London?
London is a world-class destination at any time of year. Deciding what time of year is best to visit London will really depend on what you want from your trip!
If you prefer warm weather and longer days then the summer months of June to August are generally the best though this is also the busiest and most expensive time of year to visit.
Popular London events such as the Chelsea Flower Show (May/June), the Trooping of the Colour (June), and Wimbledon (June) also lead to an influx of visitors.
London is generally at its wettest and coldest from December to February when snow can sometimes fall in the capital. Outside of the run-up to the Christmas holidays and New Year, this can be a less hectic time of year to visit.
When evaluating the best time of year to visit London consider your budget, what you want to do, what weather you prefer and if there are any events you particularly want to see.
How many days do you need in London?
I recommend planning 3 to 4 days in London especially if it is your first visit. There is so much to do and see and it can be exhausting so I recommend adding one more day than you think you will need to your itinerary. 3 to 4 days in London should give you enough time to see most of the main sights.
If you are thinking of adding some day trips from London into your UK itinerary I would plan at least a week in London.
What is the best area to stay in London for first-time visitors?
I recommend booking accommodation in central London. Yes, it may be more expensive but if you only have a few days in London stay near all the main sights and landmarks.
There is nothing worse after a long tiring day of sightseeing realising that you have to travel some distance to your accommodation.
You can find lots of options for all budgets and travel styles in my London Accommodation Guide.
How much do I need to budget for London?
London can be an expensive city to visit but if you are worried about your budget there are ways you can save on costs.
Purchase an Oyster card to save on transport costs (including getting into London from the airport.
Evaluate the cost of buying individual tickets to attractions versus the London Pass.
Buy sandwiches, drinks and snacks from supermarkets.
Avoid London during peak season when prices are at their highest.
Many of London's attractions including museums, art galleries, parks and markets free
Read my budget London travel tips guide for more ways to save when visiting London.
Read more – Planning your UK trip budget

Enjoy your visit to London
Enjoy planning your trip to London. You can find more practical travel planning tips and resources to help plan your visit to London and the UK below:
London Travel Guide & Itinerary Planner (+ 4 bonus ebooks)