Are you planning to visit Scotland? Have you considered a Scottish road trip but decided that's not for you and would rather travel Scotland by train?
Over the years we have explored Scotland by both train and by car and as an alternative to our Scottish road trip itinerary, we decided to put together a detailed itinerary for those of you who would prefer to take the train.
You will be pleased to hear that travelling around Scotland by train is fairly easy as the railways operate on a route map that is not difficult to navigate in a generally circular direction (with a bus/car/taxi link in between as there are no trains on the Isle of Skye)
Our Scotland by rail itinerary also includes some of the most scenic rail journeys Scotland has to offer with breathtaking scenery and a welcoming rich history and heritage.
Add this Scotland train itinerary to our best of Britain by rail itinerary for the holiday of a lifetime. Perfect for train lovers and those who like to sit back and enjoy the journey as much as the destination.
Overview of the Scotland by rail itinerary
✅ The itinerary starts in the beautiful Scottish capital city of Edinburgh before you set off west towards Glasgow.
✅ After a day in Glasgow head to Oban to explore the islands of Mull, Iona and Staffa before a train ride to Fort William (the gateway to the Scottish Highlands).
✅ Embark on a short ferry ride from Mallaig to Armadale and onto the stunning Isle of Skye (this bit of the itinerary has to be taken by bus, taxi or tour).
✅ A bus from Skye over the bridge will take you back to rejoin the train line at the Kyle of Lochalsh and a scenic ride to Inverness.
✅ The final train journey to Edinburgh through the beautiful Cairngorms National Park completes the journey.
For each destination included in this Scotland by train itinerary, we have included recommendations of what to see and do, accommodation options plus practical tips and details to help you on your way.
We have also included the distances between destinations and the estimated time it will take you to travel each leg of the journey.
Map of the route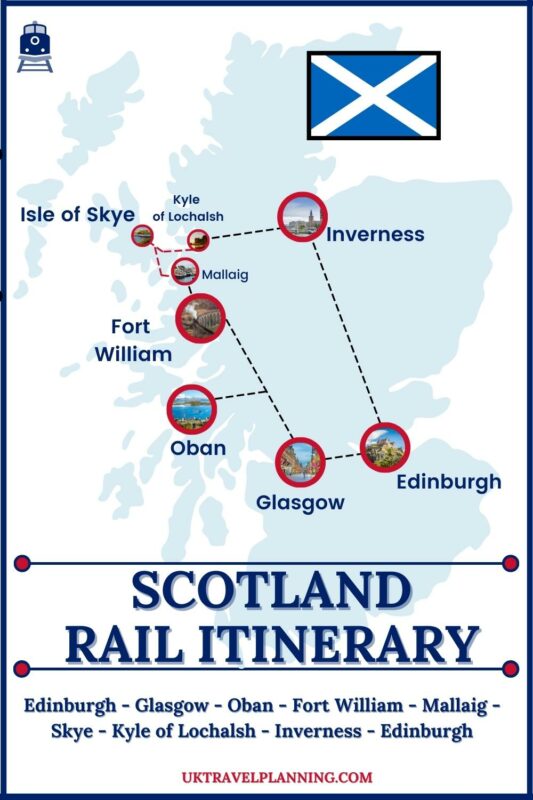 Scotland by train itinerary
Days 1-3 Edinburgh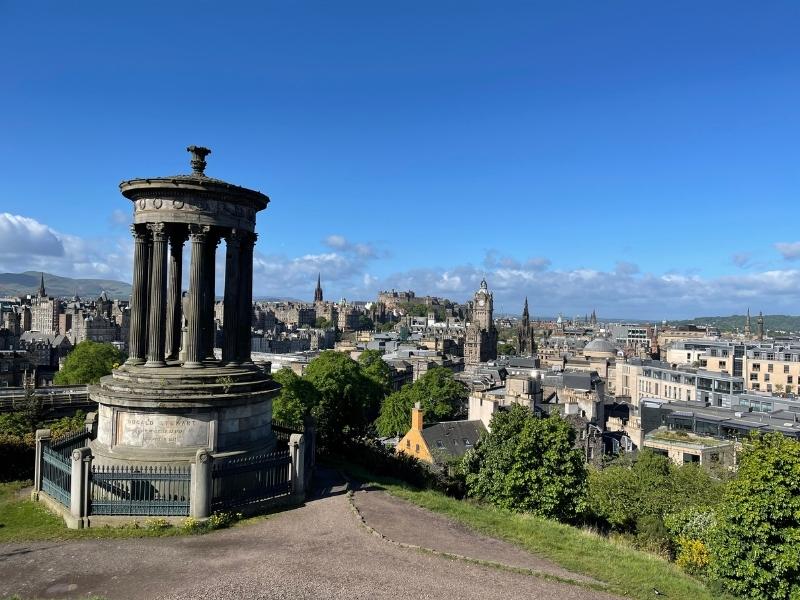 Edinburgh – Day 1
Perhaps you are planning to fly into Edinburgh or take the train to Edinburgh from London (or another UK destination)?
If you arrive by plane it is good to know that the connection from Edinburgh airport to the city centre is served by a frequent tram service that takes around 30 mins. A single ticket is around £6.50 and a return is £9. The return ticket is open for a return journey at any time (even months later).
If you arrive by train you will alight the train at Edinburgh Waverley Station which is located on Princes Street in the centre of the city.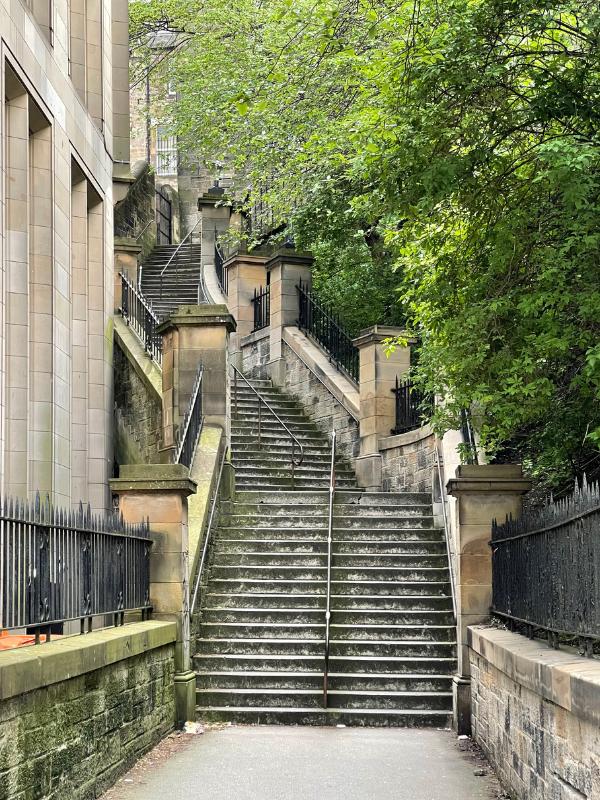 Edinburgh Days 2 – 3
There is much to see and do in Edinburgh. The city caters to all interests, including history, walking, royal and military fans as well as whisky fans.
It really is impossible to visit everything the city has to offer in 2 days so we recommend prioritising your must-see items when planning your itinerary.
Highlights of Edinburgh include
Historic Edinburgh Castle
The Royal Mile
Climb Arthur's Seat and look at the Views
The Port of Leith and the Royal Yacht Britannia
The Palace of Holyrood House.
Greyfriars Kirkyard
Edinburgh Botanic Gardens
Read – 27 things to do in Edinburgh
If this isn't your first visit to Edinburgh (or you prefer to explore further afield and can base yourself in the city for a few more days) why not take a day trip by train? Destinations within easy reach of Edinburgh include
Aberdeen
Stirling
Leuchars (for St Andrews golf course)
Dundee
Tweedbank
All are approx 1 hour from Edinburgh except Aberdeen which takes around 2.5 hours)
Read – Best day trips by train from Edinburgh
Alternatively, join an organised day tour from Edinburgh. Popular choices include this Outlander
Accommodation options in Edinburgh (near Waverley Train Station)
Day 4 – Edinburgh to Glasgow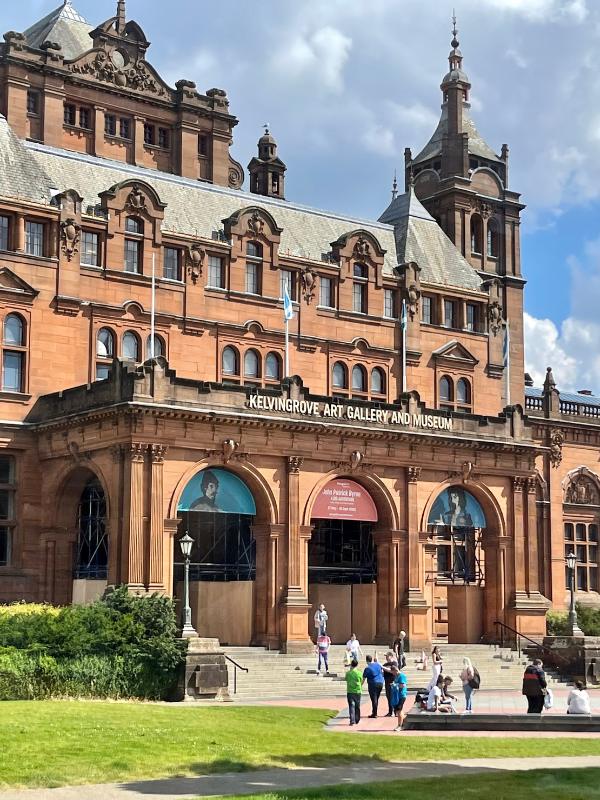 📍 On Day 4 it's time to depart from Edinburgh and head to Scotland's most populous city – Glasgow.
🕘 This is a short train journey and only takes around 50 minutes.
✅ There are multiple services available daily.
🔎 During the train journey look out for the Kelpies in Falkirk. These are the 30-metre-high equine sculptures in Helix Park, visible from the train on the right-hand side from Edinburgh. Look carefully, they are easily missed.
Highlights of Glasgow include
The Kelvingrove Museum & Art Gallery
Glasgow Cathedral & Necropolis
Glasgow Street Art
Read more – One-day itinerary for Glasgow
Accommodation options in Glasgow
Day 5 – Glasgow to Oban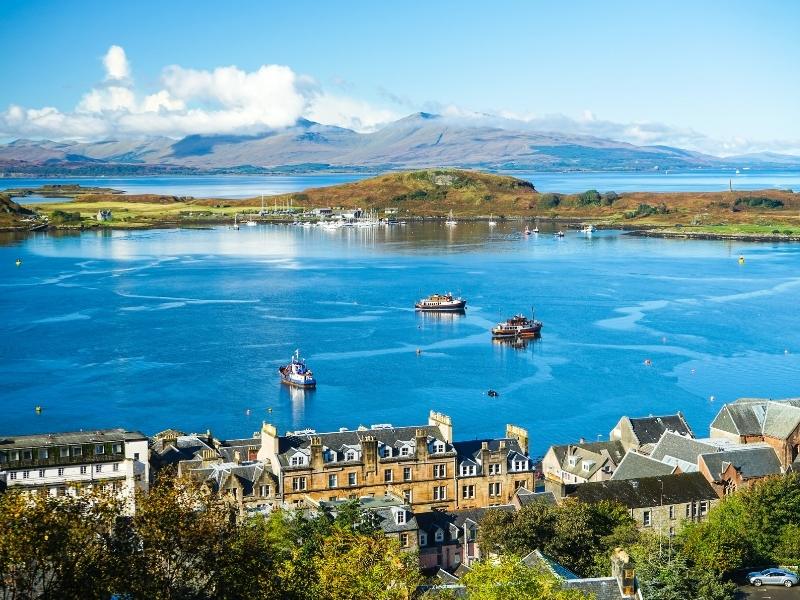 📍 From the Queens Street station catch the train on the West Highland line which is THE number one scenic Scottish train journey (and one of our top 10 UK train trips).
🕘 Check your train times as there are only a few trains daily in each direction. The journey to Oban is around 3 hours.
The train heads north out of Glasgow. If possible try to sit on the left side of the train in the direction of travel as the train heads north for the best loch views.
The station at Balloch about 50 mins outside Glasgow is a change station for Loch Lomond if this is an area you want to explore further.
The train divides or splits at Crianlarich, about 90 minutes from Glasgow, with one portion of the train heading to Oban. The other portion of the train heads north to Fort William across the famous Rannock Moor.
You will be told which part of the train to sit in to ensure you are heading in the correct direction.
On the train journey to Oban from Crianlarich enjoy spectacular views of Loch Lomond, Glen Lochy, Loch Awe and then the shores of Loch Etive.
Highlights of Oban include
McCaig's Tower and battery on the hill overlooking Oban.
Oban is known as the seafood capital of Scotland
Oban Distillery
Accommodation options in Oban
Day 6 – Oban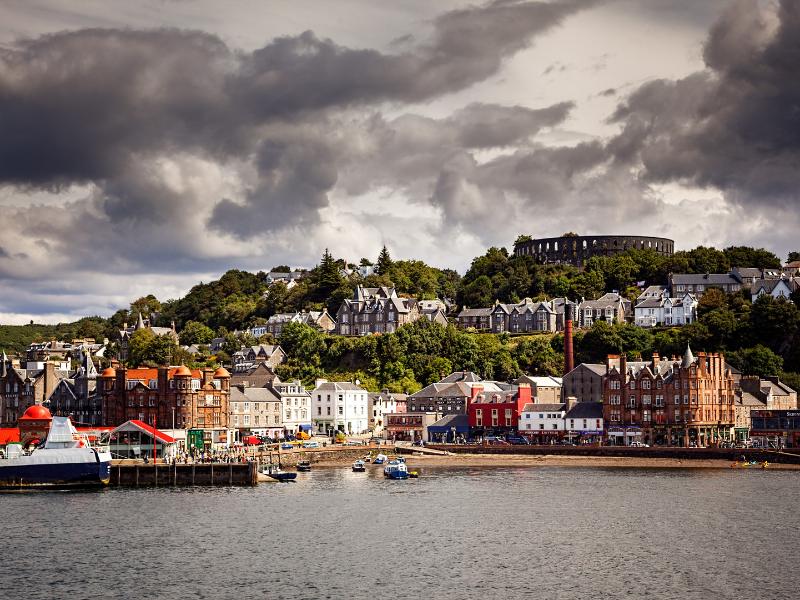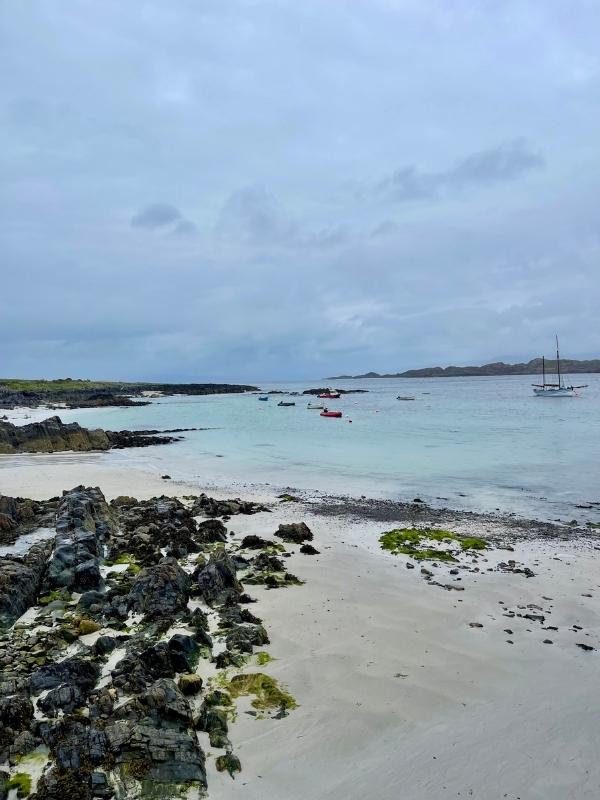 One Day 6 take a tour from Oban to some of Scotland's most stunning islands – Iona, Staffa, and Mull.
There are a number of tours available from Oban – most last all day. Also worth noting that these may not suit if you suffer from sea sickness! Check out Staffa Tours for more info
Day 7 – Oban to Fort William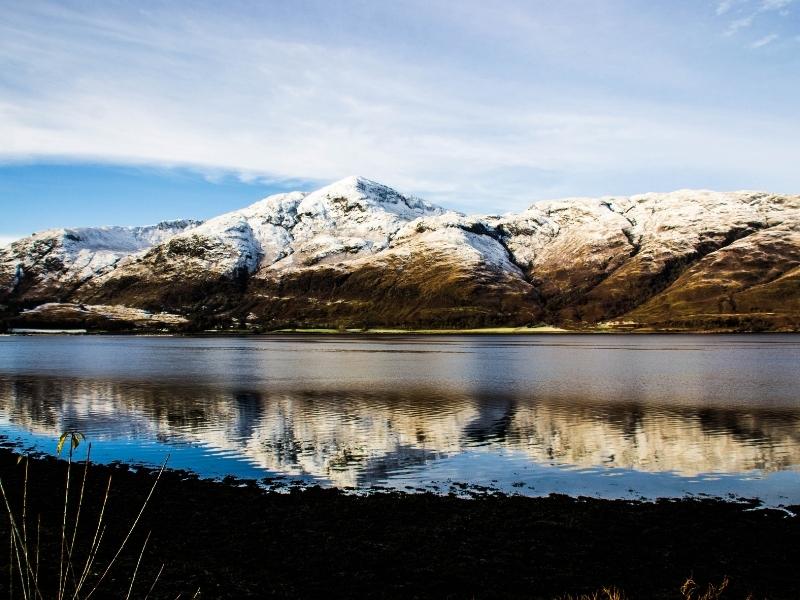 Day 7 catch the train from Oban back to Crianlarich and change there for the train to Fort William.
🕘 Journey time is dependent on the service caught from Oban and the time to wait for the connecting service at Crianlarich. Overall time travel time is around 3 to 4 hours.
The train journey from Crianlarich will take you across Rannock Moor on the West Highland train line.
The next train station stop is at Corrour which is the highest mainline UK train station at 1339 feet. Here many walkers end/start their hikes over this amazing landscape.
After Corrour the train travels on to Fort William. Look out for the peak of Ben Nevis, Scotland's highest peak at 4,411 feet.
Highlights of Fort William include
Neptune's staircase
Ben Nevis Visitor Centre
Glenfinnan Visitor centre and monument
Glenfinnan Viaduct
Read more – Best things to do and see in Fort William
Accommodation options in Fort William
*Note that there are taxis generally available outside Fort William train station.
Day 8 – Fort William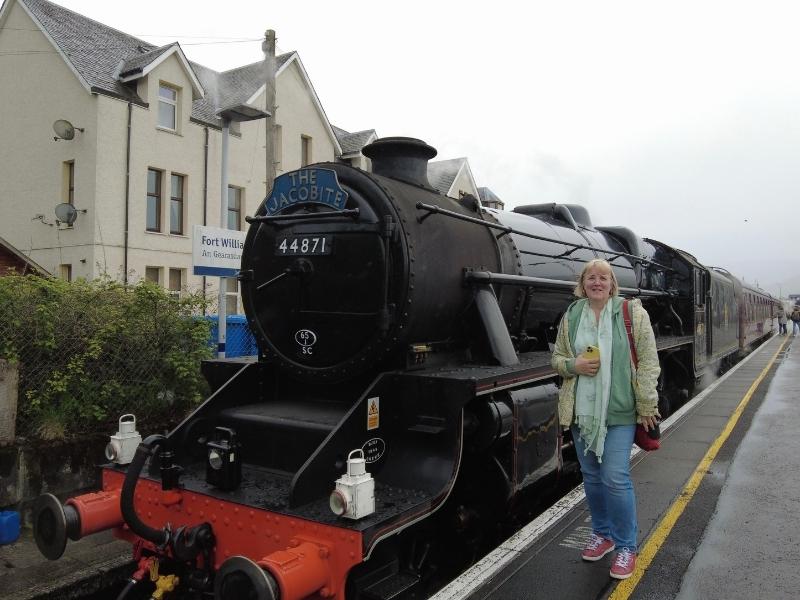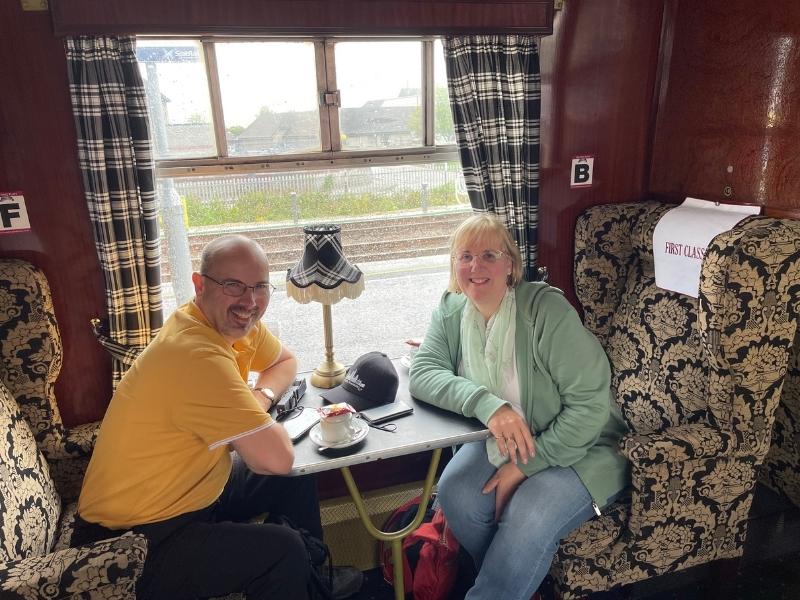 If you are completing this Scotland by rail itinerary between April and October we recommend booking tickets on the world-famous Jacobite Express steam train to Mallaig (aka the Harry Potter train).
The train departs once a day in the morning from early April until late October. From May to September, an additional train service also runs every afternoon. The Jacobite train is operated by West Coast Railways.
Tip – Arrive at the train station in Fort William in plenty of time to soak up the fantastic atmosphere of the Harry Potter train and take plenty of photos and videos.
❗️Remember to book your tickets early as this sells out very quickly.
Read – How to ride the Harry Potter train in Scotland
Good to know – If you are unable to book tickets for the Jacobite (or are travelling out of season) the normal service train travels over the same train line. This means you will still travel over the Glenfinnan viaduct and see the same spectacular views along the way to Mallaig.
🕘 The train ride between Fort William and Mallaig takes around 1 hour and 25 mins from Fort William to Mallaig.
What to do and see in Mallaig
The endpoint of the West Highland Train line is Mallaig. Look out for the beautiful views of the islands of Eigg and Rum and the white sands of Morar as the train line hugs the coastline on its way to Mallaig.
In Mallaig explore the beautiful restaurants and try some local seafood and wander around the harbour. For Harry Potter fans there is a dedicated shop also worth exploring.
Day 9 – Fort William (Mallaig) to Armadale (Isle of Skye)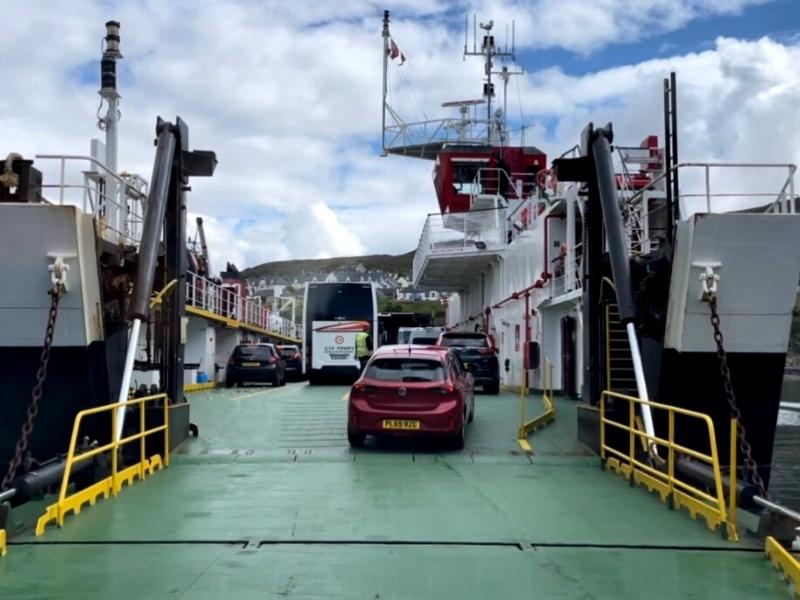 Mallaig is the ferry terminal for the crossing to the truly breathtaking Isle of Skye.
The ferry carries road vehicles and foot passengers and is currently operated by Caledonian MacBrayne (CalMac). CalMac also provides ferry services to the Western Isles including Barra, Bute, Arran, Harris, Iona and Eriskey from Mallaig.
🕘 The ferry journey takes 25 minutes before arriving at the ferry port at Armadale which is located in the southern part of the Sleat Peninsula on Skye.
Whilst there is a road bridge to Skye via the Kyle of Lochalsh the ferry is the best option from Fort William for this rail trip.
How to travel from Armadale to your accommodation on Skye
On arrival at Armadale, you have a few options to get around the island. There are no trains on Skye so you will need to make alternative transport arrangements.
Taxi to Portree* – takes 1 hour and costs £60+
Rent a car – There is a small family-run car rental company located in Armadale. Organise a car pick here for the Skye leg of your trip before returning (for an additional fee) to the Kyle of Lochalsh.
Bus –
*Public transport and tour options are easier from Portree so for this reason (if you do not hire a car from Armadale) we recommend basing yourself in Portree for the duration of your stay on Skye.
Accommodation options in Portree on the Isle of Skye
Day 10 to 11 – Isle of Skye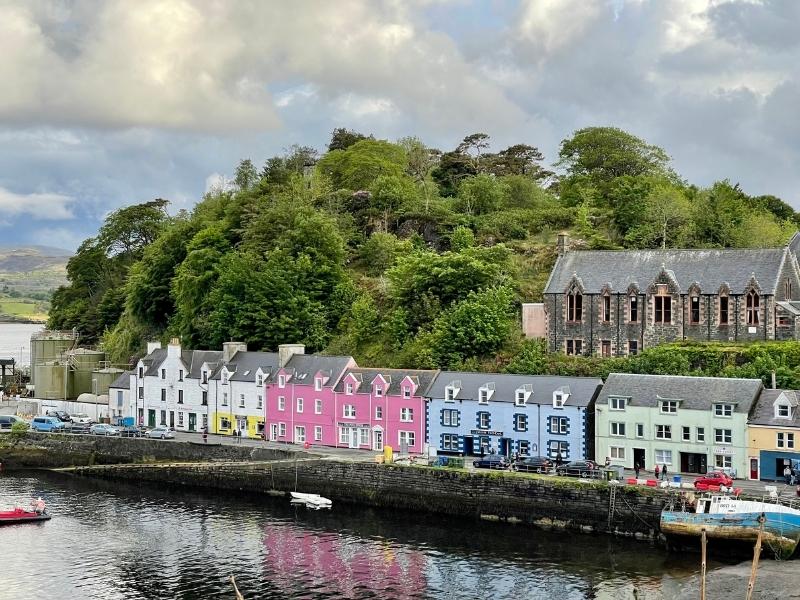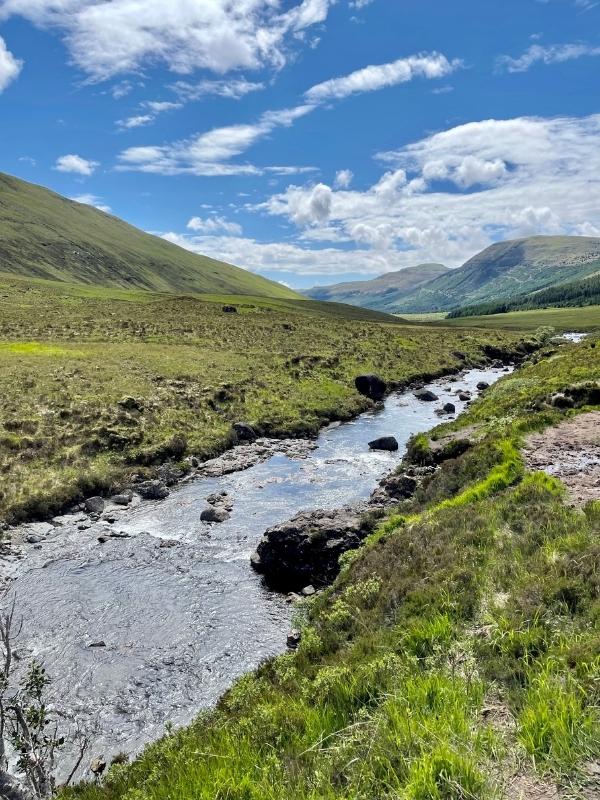 With so much to see on Skye and places to visit visitors are often left thinking they might have wanted more time here (including us in 2022!)
For this reason, it is best to prioritise your must-see places and plan your itinerary accordingly. If you have not hired a car at Armadale your options to explore the island are the following:
Catch local buses around the island
Take a tour from Portree
Hire a private driver tour guide to show you the highlights of the island
Highlights on the Isle of Skye include
Dunvegan Castle and gardens
Kilt Rock and Mealt falls
Armadale Castle Gardens and museum.
Day 12 – Isle of Skye to Kyle of Lochalsh and Inverness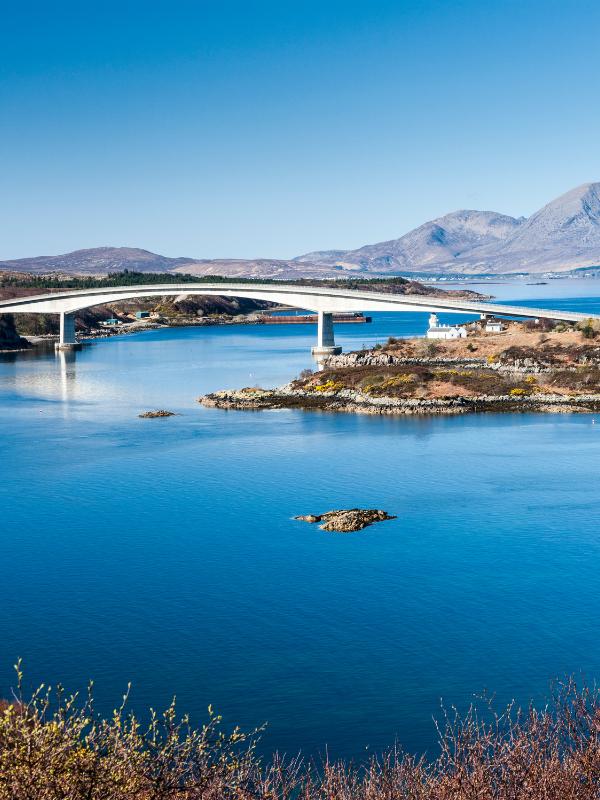 Leaving Skye over the bridge to the Kyle of Lochalsh is possible by taxi or by bus. From Portree (Square) the 917 Citylink Service costs around £9 for one adult fare.
The bus stops at Kyle of Lochalsh Old Slipway bus stop and takes around 1 hour. The bus stop is a few minutes walk to the train station.
What to see around the Kyle of Lochalsh
If you are dropping off the hire car you picked up at Armadale at the Kyle of Lochalsh consider exploring a little of the area before you do so.
Eilean Donan Castle is 9 miles (about 15 mins drive away) along the coast of Loch Alsh.
Plockton
Train to Inverness
🛤 This is the beautifully scenic Kyle line.
🕘 The train to Inverness takes around 2.5 hours.
What to see on the train journey to Inverness
From Kyle, the train line hugs the coastline of Loch Carron and at the station of Plockton is the location setting of the popular UK TV program Hamish Macbeth (from the 1990s).
Look out for the Torridon Hills on the left-hand side of the train just after the station at Achnashellach. The line then rises and falls en route to Dingwall past Loch Garve, Loch Luichart and Loch a'Chuilinn with constantly stunning views. Dingwall is at the end of the Cromarty Firth. From here the line heads the 20 minutes journey south to Inverness.
From Dingwall a change of train on the Far North Line would take you to the north tip of Scotland at Thurso and Wick train stations. From here if you wish to visit the John O'Groats or the Orkney Islands.
Accommodation options in Inverness
Day 13 – Inverness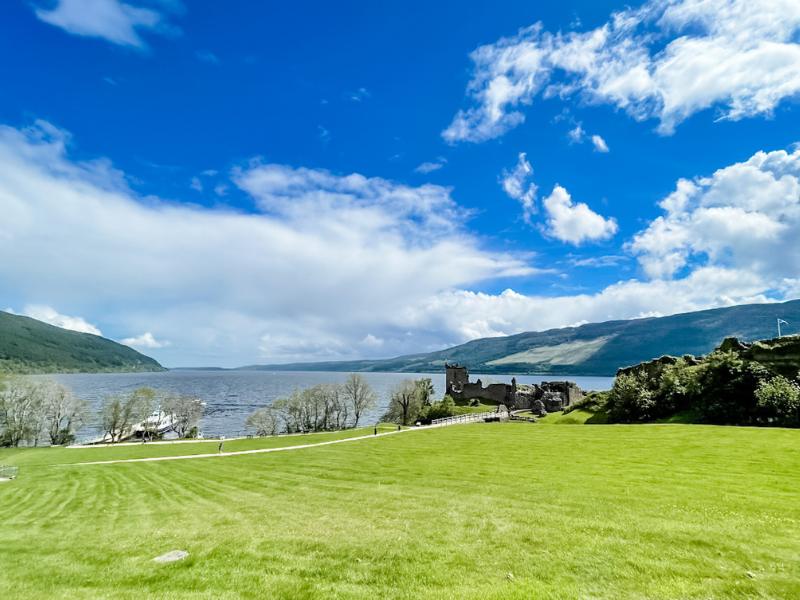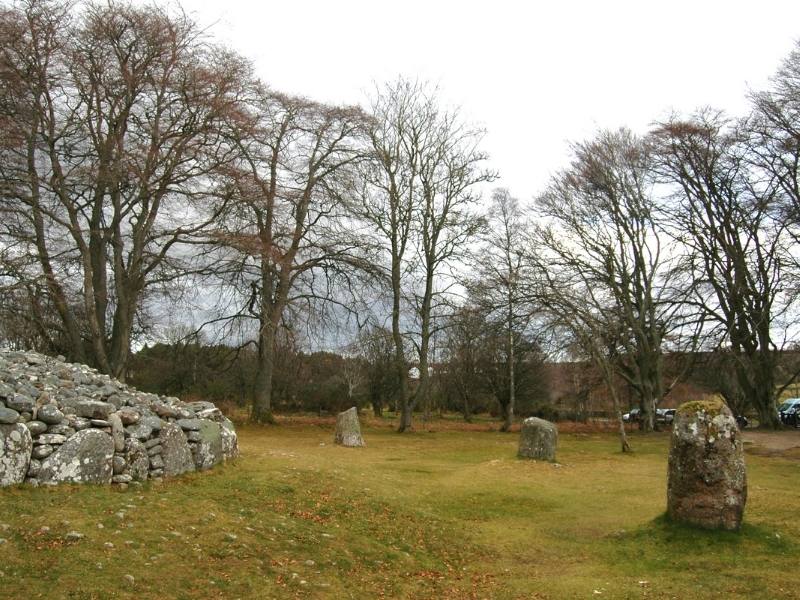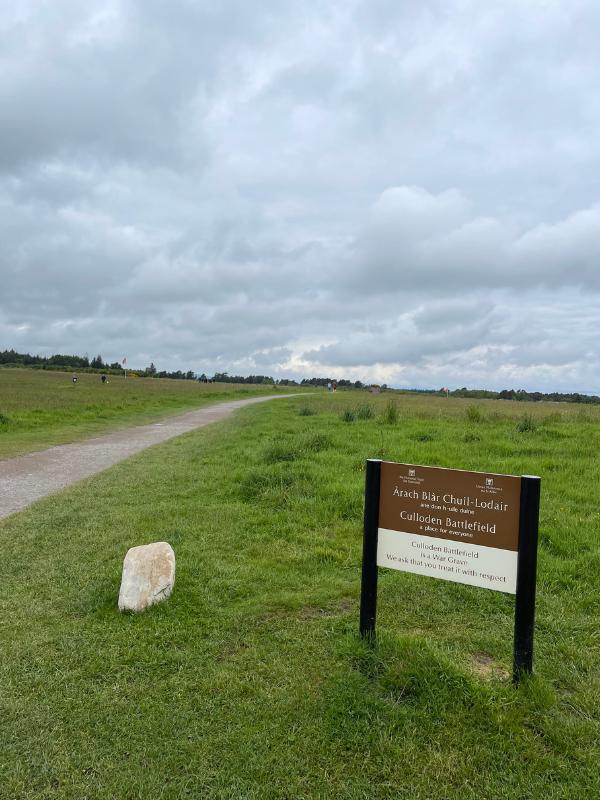 Highlights of Inverness – including easy day trip ideas
Loch Ness and Castle Urquhart
Clava Cairns – Bronze Age Cairn
Fort George- Artillery fortification
Inverness to Thurso and Wick (Far North Line)
Good to know – the hop-on hop-off bus from Inverness has stops at Culloden and Loch Ness
Read more – Best day trips from Inverness
Day 14 – Inverness to Edinburgh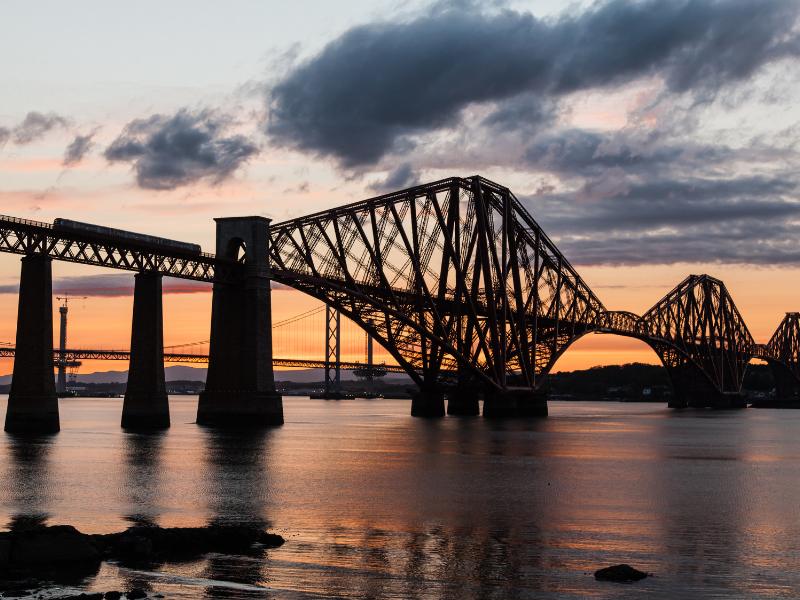 ✅ On day 14 catch the train back to Edinburgh Waverley from Inverness.
🔀 There is a choice of train routes to take – the coastal route that takes in Aberdeen and Dundee or the central route that passes through Aviemore, Pitlochry and Perth.
🕘 The coastal route takes around 5 hours while the central route to Edinburgh takes between 3 hours 30 mins – 4 hours.
Both routes are scenic and have contrasting landscapes. There are merits to both depending on timescales or your specific interests such as the Whisky Trail from the station of Keith north of Aberdeen.
Both routes take in the iconic Forth Rail Bridge which is about 12 minutes away from Edinburgh.
The bridge was completed in December 1889 and spans over the Firth of Forth at South Queensferry. It is a UNESCO World Heritage site.
Train ticket and passes – options for your Scotland rail itinerary
There are a number of options open to you when it comes to buying tickets for the Scotland by rail itinerary detailed above. The most cost-effective option for train tickets may be to compare the cost of a train pass or ticket discounts with a railcard.
Train Passes
The two passes available are the BritRail Pass or the Global Eurail Pass (or Global Interail pass if you live in Europe).
Note – Unfortunately, the Scottish Highlands BritRail Pass and the Spirit of Scotland BritRail Pass are unavailable at the moment due to Covid – hopefully, they will be available again soon.
This means that you would need to buy a regular BritRail Pass for travel by trail in Scotland. The following types are available:
Flexible – 2 Day, 3 Day, 4 Day, 8 Day (valid within 1 month) and 15 Day (valid within 2 months)
Consecutive – 2 Day, 3 Day, 4 Day, 8 Day, 15 Day, 22 Day, 1 Month
The other alternative is a Global Eurail Pass. It offers consecutive travel for 15 or 22 consecutive days, or buy a pass valid for 1, 2 or 3 months. Or a flexible pass for 4, 5 or 7 non-consecutive days spread over a month; or for 10 or 15 days during a two month period.
With 6 days of train travel (excluding the Jacobite which is not covered by either pass) a 7 day Global Eurail flexipass may be the most cost-effective for this itinerary.
Read – Global Eurail Pass versus BritRail Pass
Railcards
Another option would be to purchase a digital railcard and compare the cost of tickets with discounts from the railcard applied.
Examples of railcards include:
Two Together Railcard – Costs £30 for the year. Two travellers are named on the same card and you must always travel together to get one-third off the normal ticket price.
Senior Railcard – For the over 60s. Costs £30 for the year and offers one-third off rail fares.
More UK rail travel tips and inspiration