Looking for accommodation in London? Our curated list of the best London hotel chains offers budget, mid-range and affordable luxury options for your special stay in the UK capital.
With hundreds of hotels in London to choose from how do you decide which one is right for your travel style and budget? Finding affordable hotels in London can be tricky at any time of year and in this article we look at the London hotel chains offering budget, mid-range and affordable luxury accommodation.
We do recommend choosing a hotel as close to central London as your budget allows. There are so many things to do and see in London (which can be pretty exhausting) so don't waste precious holiday time commuting backwards and forwards into the city.
If you are unsure of locations you will find a map showing the locations of all the London hotels mentioned at the end of the article. If you are not sure which area of London is best for your stay you can find more information to help you decide in our guide to London neighbourhoods.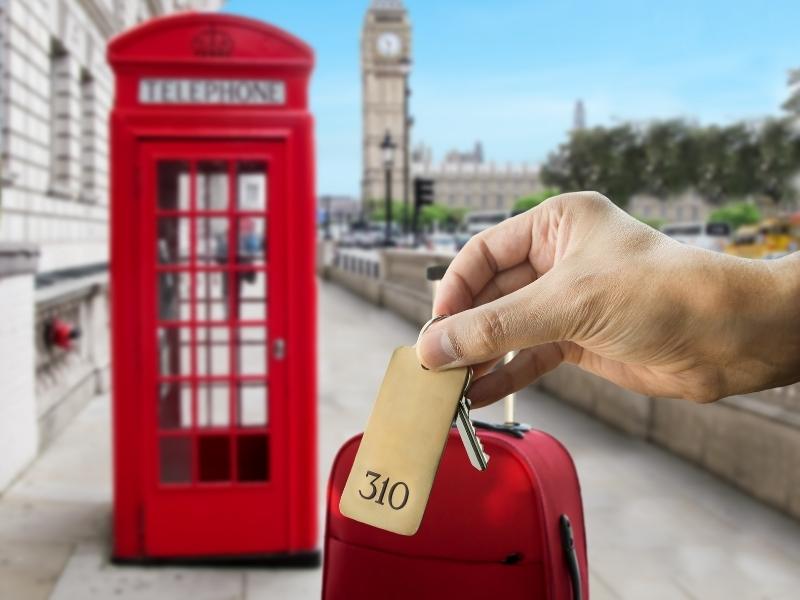 Best London hotel chains
Marriott – $$$
There are a number of centrally located Marriott hotels in London. The London Marriott County Hall overlooks the Thames and boasts spectacular views of Big Ben and the London Eye which makes it a particularly popular choice.
Free WiFI, top-notch service and luxury amenities contribute to consistently excellent reviews on booking.com
⭐️⭐️⭐️⭐️⭐️
Fabulous location with views of Big Ben this popular London hotel has spacious rooms with free WiFi.
⭐️⭐️⭐️⭐️⭐️
Situated in the centre of London's West End. Luxurious rooms with air conditioning and free WiFi
⭐️⭐️⭐️⭐️
250 m from Swiss Cottage Tube Station and walking distance to London Zoo and Regents Park
Best Western – $$
Best Western is a well-known brand around the world with hotels in nearly 100 countries. Although you will find Best Western's around the UK there are only 2 in central London.
⭐️⭐️⭐️⭐️
Just a 5-minute walk from Paddington Station and the Heathrow Express. 19th-century architecture and free Wi-Fi. Tube stations are close by.
⭐️⭐️⭐️
Situated in the heart of London, The Delmere Hotel is a 5-minute stroll from Paddington Train Station and the Heathrow Express. Free WiFi. Air conditioning.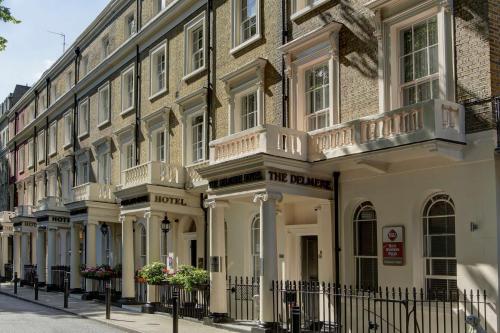 Another popular chain of well-known hotels with a strong presence is Holiday Inn London. Centrally located and offering comfortable accommodation.
⭐️⭐️⭐️⭐️
Modern hotel 5-minute walk from Regent's Park and 2 Tube Stations.
⭐️⭐️⭐️⭐️
5 minutes tube journey from the vibrant Covent Garden and West End.
⭐️⭐️⭐️⭐️
Located 2 mins from Oxford Street. Bright and airy bedrooms have air conditioning and Wi-Fi access.
Ibis & Ibis Styles – $ or $$
If you are looking for good budget London accommodation Ibis are definitely worth considering. Free wifi, satellite TV, plus spacious, clean and comfortable rooms typify these conveniently located London hotels.
Located only a 3-minute walk from Earl's Court Underground Station
Good budget option located a few minutes walk to West Brompton Tube Station on the District line
Located 5 minutes from Waterloo Station and 10 mins from the Tate Modern on foot.
Citizen M – $$
Citizen M is a European hotel chain that is well known for its contemporary design and the CitizenM hotels in London are wonderfully on brand.
Download their free app for contactless check-in (and out), food ordering and more!
Offering spectacular views on the river Thames, Tower of London and Tower Bridge.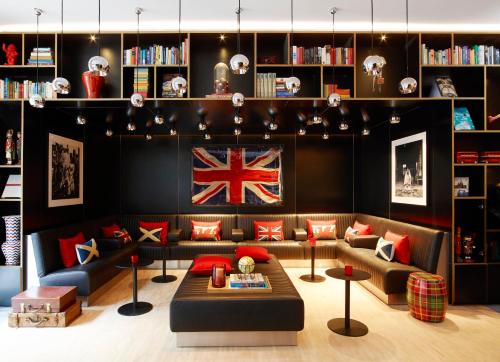 Located a 2-minute walk from the Tate Modern, near Borough Market and only 600 m from the Millennium Bridge.
Old Spitalfields Market is an 8-minute walk away and Brick Lane Market is a 9-minute walk away.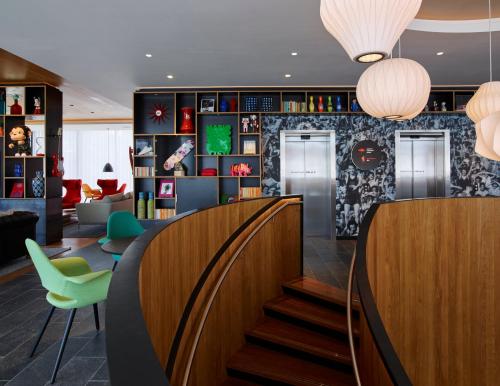 Z Hotels – $$
Highly recommended chain these London hotels are ideally located for exploring the city. All rooms have free WiFi, en-suite shower rooms and HD TVs.
Located in the heart of the West End close to shops and restaurants.
Compact and luxurious accommodation with a contemporary design.
Located near the British Museum and theatres. Air-conditioned rooms, a bar, free WiFi and a shared lounge.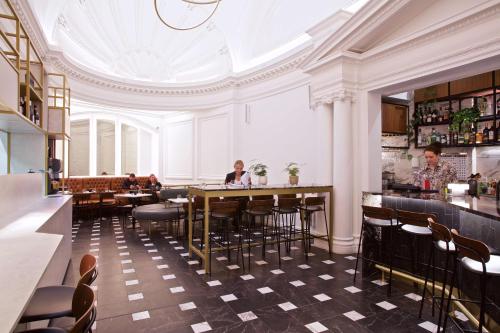 Point A Hotels – $
If you are planning to travel out from London by train (for day trips or to explore the UK) Point A hotels are ideally located.
Rooms are clean and offer good value for money.
6-minute walk to Paddington train and Tube stations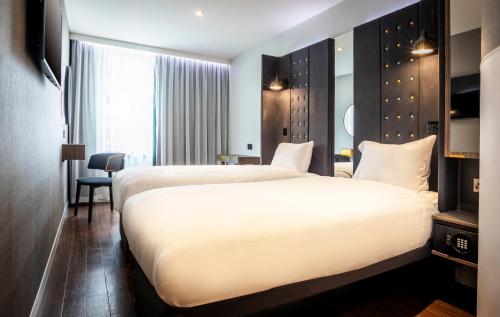 Located 700 m from London Eye and 900 m from Houses of Parliament.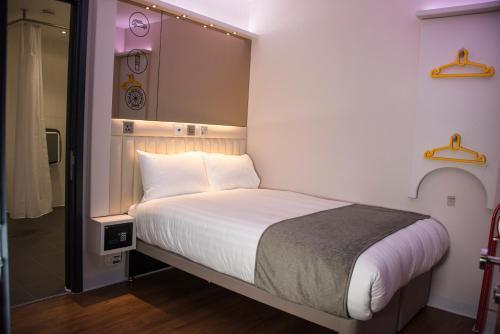 A 5-minute walk from King's Cross train station
EasyHotel – $
Ideal budget accommodation in London with small, modern and clean rooms. The rooms in this budget hotel London chain have an en suite shower, air conditioning and WiFi access (for a charge).
Air-conditioned rooms with private bathroom and shower.
Accommodation a minute's walk from Paddington Rail and Tube station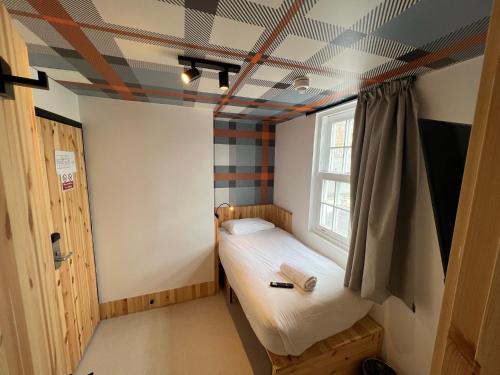 Each room at this hotel is air-conditioned and has a flat-screen TV
Enjoy a complimentary breakfast buffet during your stay at the Holiday Inn Express. An excellent London budget accommodation option there are two centrally located Holiday Inn Express hotels to choose from.
Grade II listed building just a 10-minute walk from Victoria Railway Station.
West Kensington Underground Station is a 5-minute walk away.
Travelodge – $
There are over 500 Travelodge hotels across the UK and Ireland each offering budget-friendly accommodation.
⭐️⭐️⭐️
Laid-back lodging with bright rooms with flat-screen TVs and family-friendly dining.
⭐️⭐️⭐️
Budget hotel with colourful rooms with flat-screen TVs.
⭐️
Contemporary budget hotel with Wi-Fi & cafe/bar.
Map showing locations of the London hotel chains in this article

More accommodation options in London
If you still have not found the right London accommodation for your stay you may find these articles helpful
London Travel Guide & Itinerary Planner (+ 4 bonus ebooks)