Wondering how to get from London to Edinburgh? In this guide, we cover 4 of the most popular ways to get to Edinburgh from London including by train, car, plane and coach to help you choose the best option for your travel budget, style and needs.
Edinburgh and London are two of the most popular cities to visit for both overseas visitors and UK residents. It is, therefore, no surprise that visitors want to see the many attractions these UK cities have to offer.
It is an easy question to answer but can depend on various considerations and factors, including:
Do you want to travel direct to Edinburgh by the quickest means?
Do you want to stop off on the way there?
How many are there in the travelling group?
Do you have a preferred mode of travel?
The day and time of travel
This quick guide provides an overview of the various travel options with considerations taken of the factors mentioned above. Individual preferences are numerous in number but can be based on:
Particular travel mode preferences
Places/site attraction sites along the route best suited for visiting with one mode of travel eg castles and the countryside best reached by car.
Mobility restrictions of travel group member(s)
Quantity of luggage to be moved
Time limitations or preferences
First time in Edinburgh? Read our practical tips to ensure you make the most of your visit

🧭 Fast Facts
London to Edinburgh Distance
By car – 400 miles or 643 km
By train – 332 miles or 534 km
London to Edinburgh train – how long does it take?
The quickest route is 4h 20
How to get from London to Edinburgh
London to Edinburgh by Train*
Listen to episode 26 of the UK Travel Planning podcast where we chat about how to travel by train from London to Edinburgh plus tips to make the most of the journey.
Our preferred mode of travel is to travel by train from London to Edinburgh.
The train has many advantages including being able to choose the day/time and route of travel and also your preferred class of travel.
You can move around the train easily, it's more social and there is no better way to see the beautiful English countryside from the comfort of a modern fast train.
East Coast Main Line (ECML)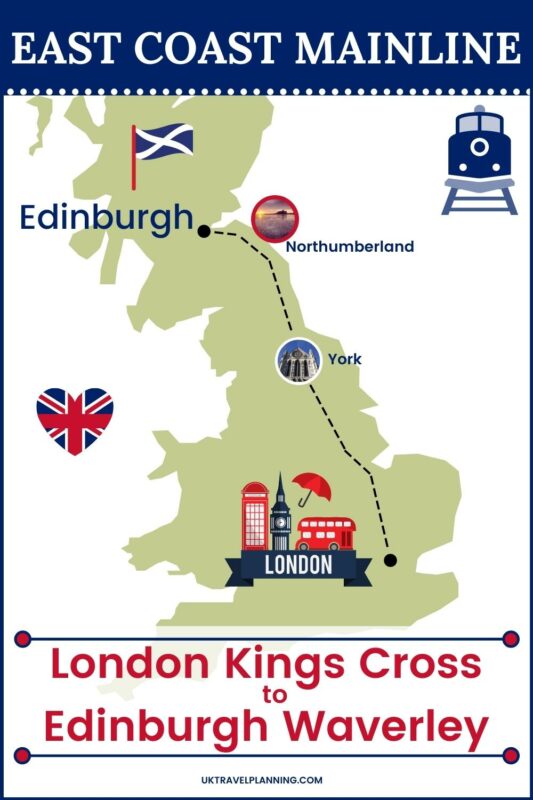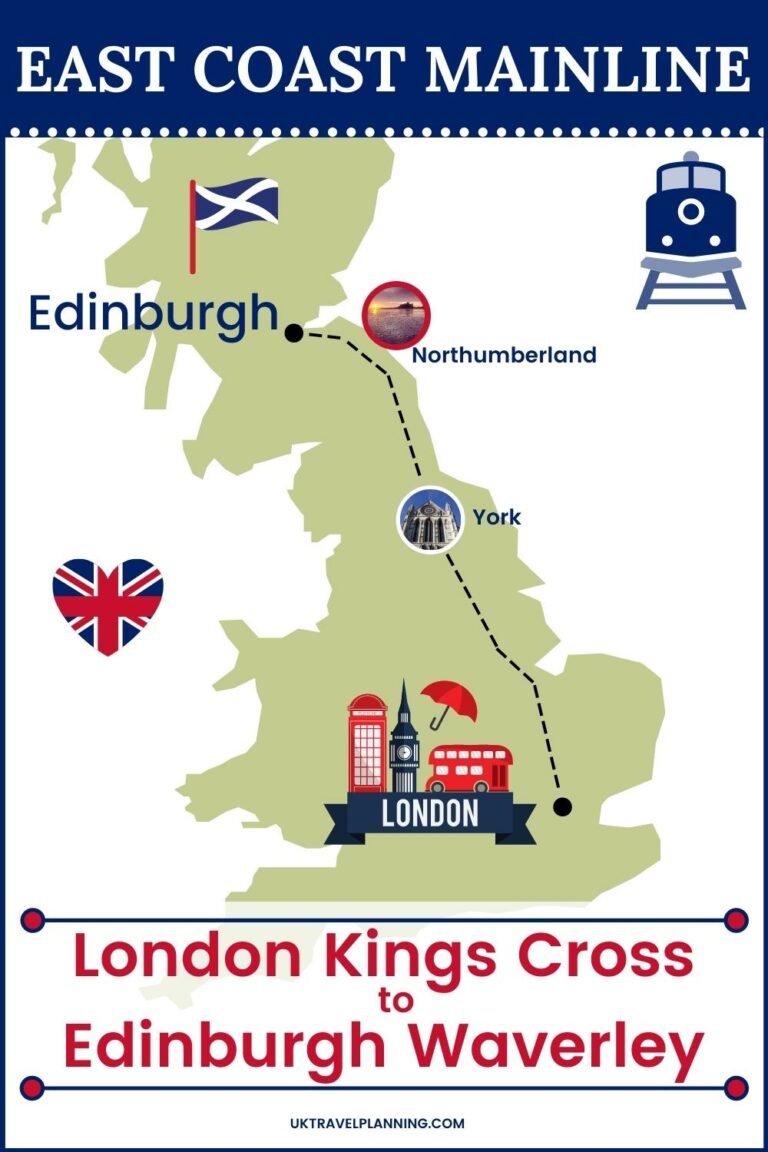 This is the train line from London Kings Cross train station up the east side of the UK to Edinburgh.
These are the fastest and most direct train services to Edinburgh, favoured by many and are the most direct for a stopover for days or just hours in York.
Train Operators – LNER London North Eastern Railways, Lumo and Grand Central
Tickets – The best deal option is likely displayed first with the national ticketing online booking options and with individual train operating companies.
Options include:

Advance Tickets – Sold in limited numbers in advance (around 12 weeks from day of travel) and subject to availability. Date and train specific.
Off-Peak – Available to buy for off-peak travel only (specific to individual companies), buy at any time.
Anytime – Any travel time or day. Buy any time.
Season – Unlimited travel between 2 stations for a specific length of time.
Click for ticket prices on TheTrainLine.com
Railcards – Up to 1/3 off fares with national railcards. Apply for 12 months, costs around £30 per person but can have travel restrictions.

Various types available can be posted out to the UK only or purchased on arrival at most mainline train stations, including some airports – though not Heathrow Airport.
Digital options can be bought online prior to travel with terms and conditions.
West Coast Main Line (WCML)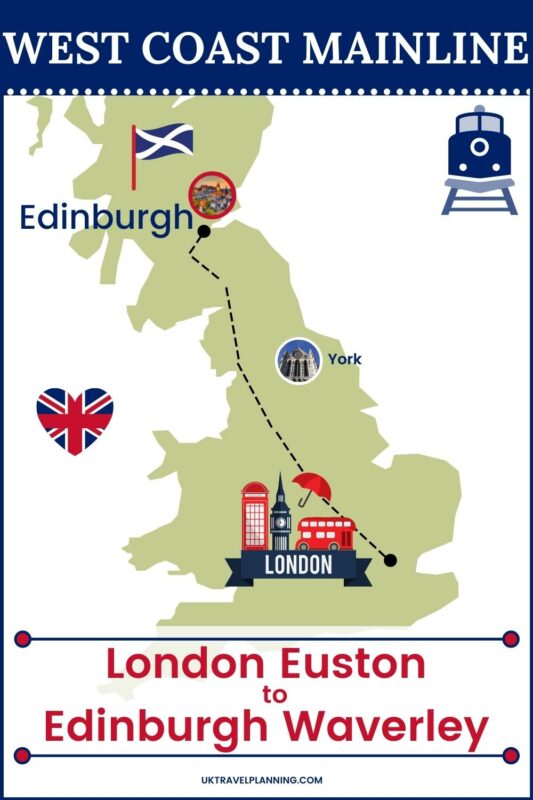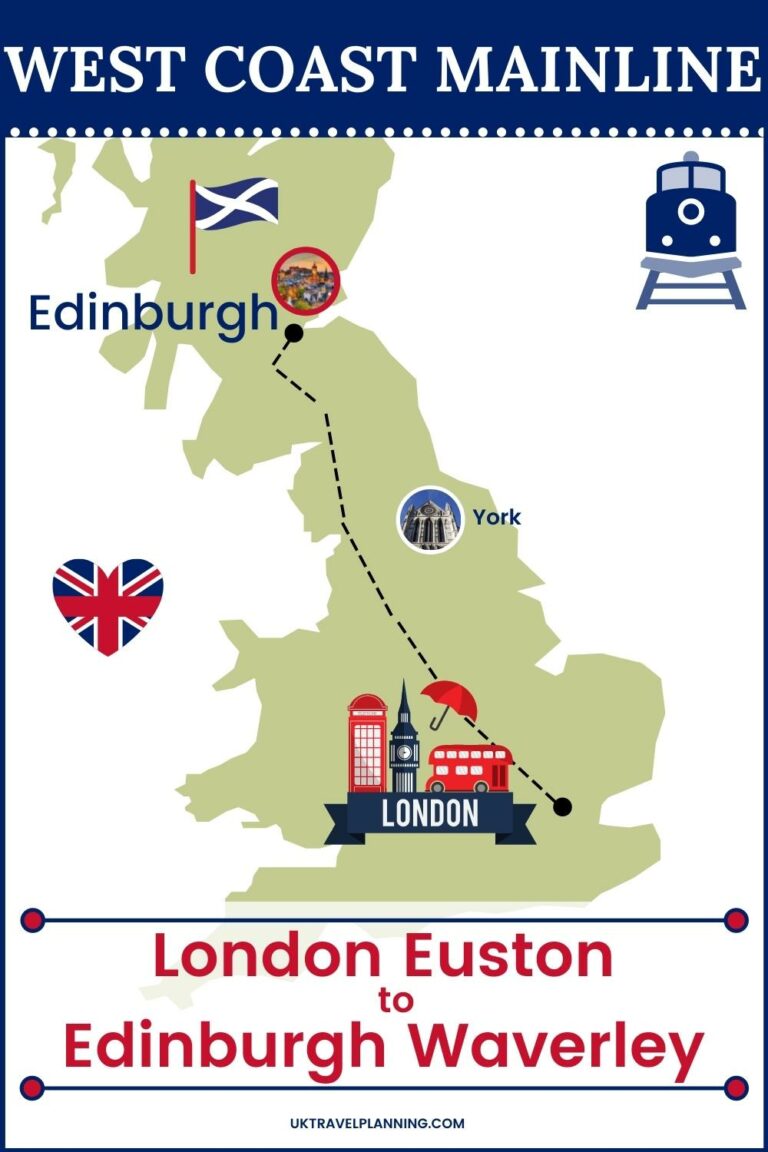 This is the train line from London Euston train station up the west side of the UK to Edinburgh.
These are fast trains but not the quickest or the most direct train services to Edinburgh. but is an alternative route.
Train Operators – Avanti West Coast.
Tickets/Railcards and Passes – As above for the ECML.
Caledonian Sleeper – Night train service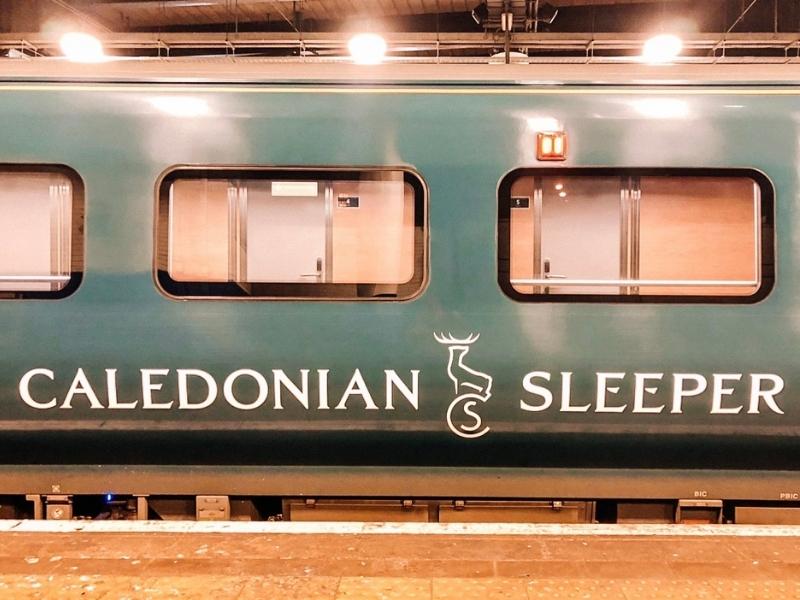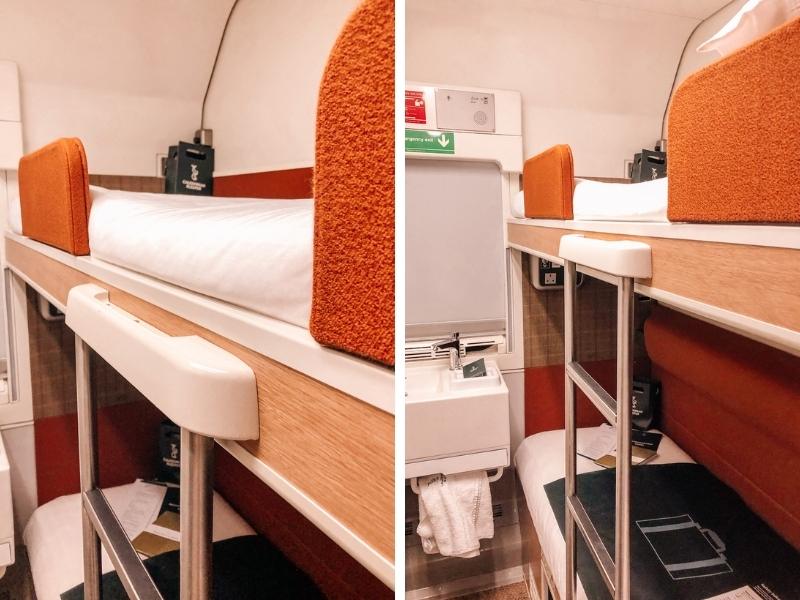 This is a luxury overnight sleeper train service that departs from London Euston for highland and lowland destinations on Sunday to Friday nights (not Saturdays) travelling along the West Coast Main Line.
The Lowlander service operates between London Euston and Edinburgh Waverley train stations.
This is not intended to be the fastest option but it is a fantastic time-saving option to travel overnight with the opportunity for a lovely meal and hotel-quality accommodation.
Click to purchase tickets on the Caledonian Sleeper
Read more about the Caledonian Sleeper or listen to our podcast episode all about travelling on the Caledonian Sleeper
Cross-Country (via Birmingham New Street or Derby)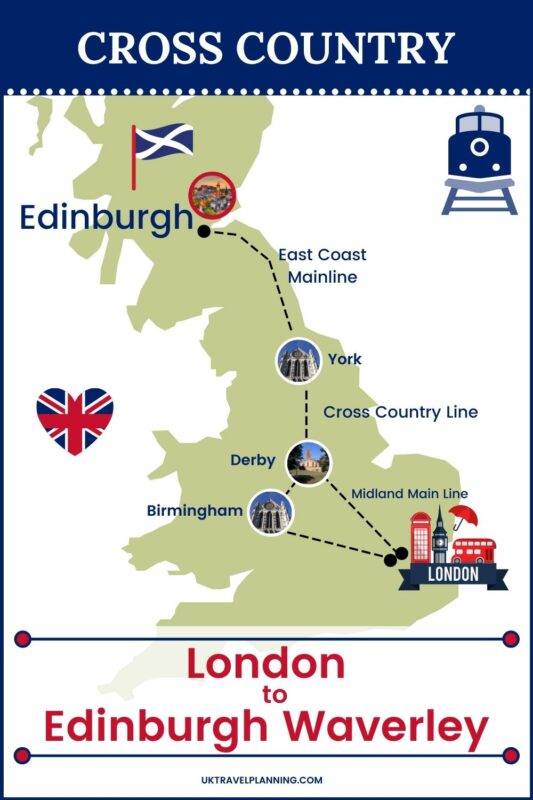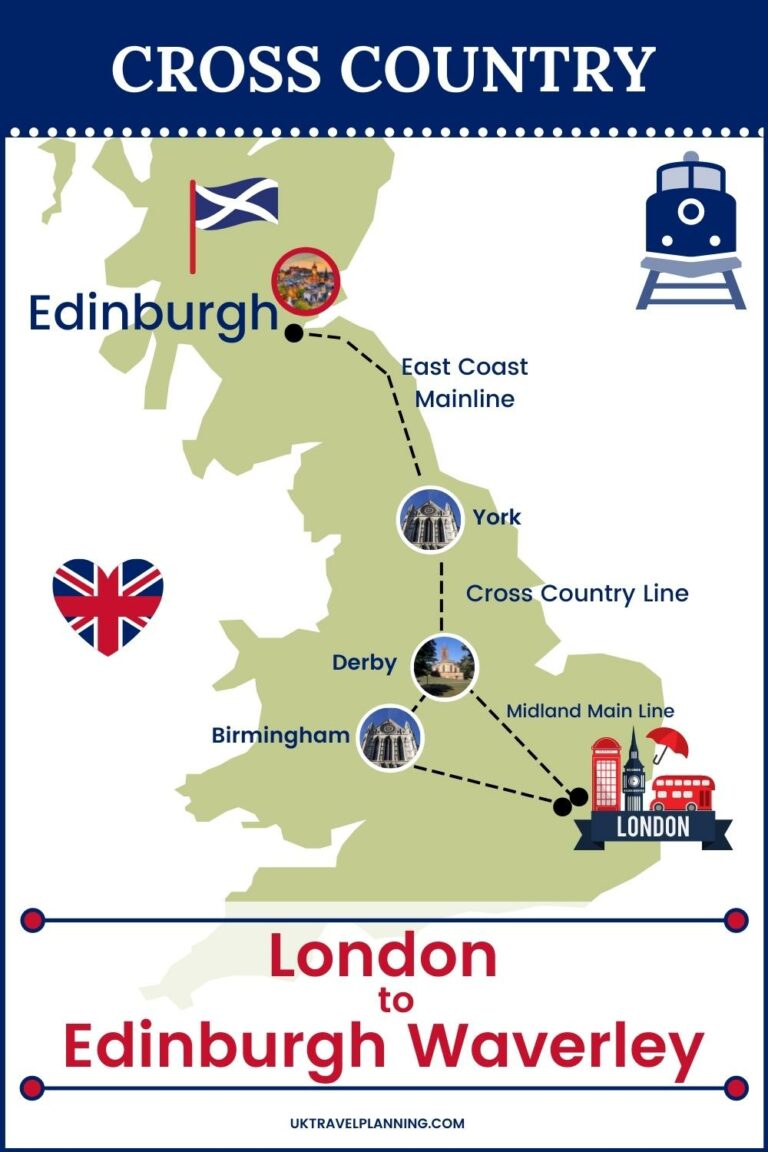 This is the train line from Birmingham New Street train station up the middle of the UK to Edinburgh. This joins the ECML at York.
Alternative routes to Birmingham are via the WCML or the Chiltern train line from London Marylebone to Birmingham Moor Street train station. A short walk, well signposted, then to Birmingham New Street.
Another alternative is to head to Derby on the Midland Mainline and then onto the Cross Country Line via York to Edinburgh.
These are not the fastest trains and this definitely not the quickest or the most direct train service to Edinburgh. This is popular option for with visitors who wish to enjoy a trip through the industrial heartland of England including towns and countryside along the way.
Train Operators – Cross Country/ East Midland Trains
Tickets/Railcards and Passes – As above for the ECML.
UK Train Travel Guide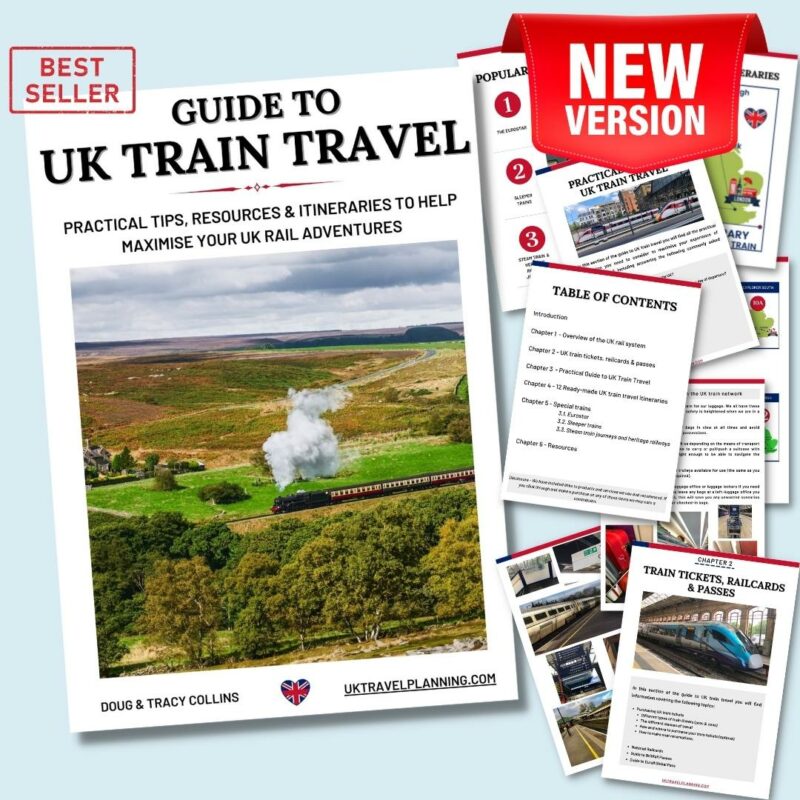 London to Edinburgh by Coach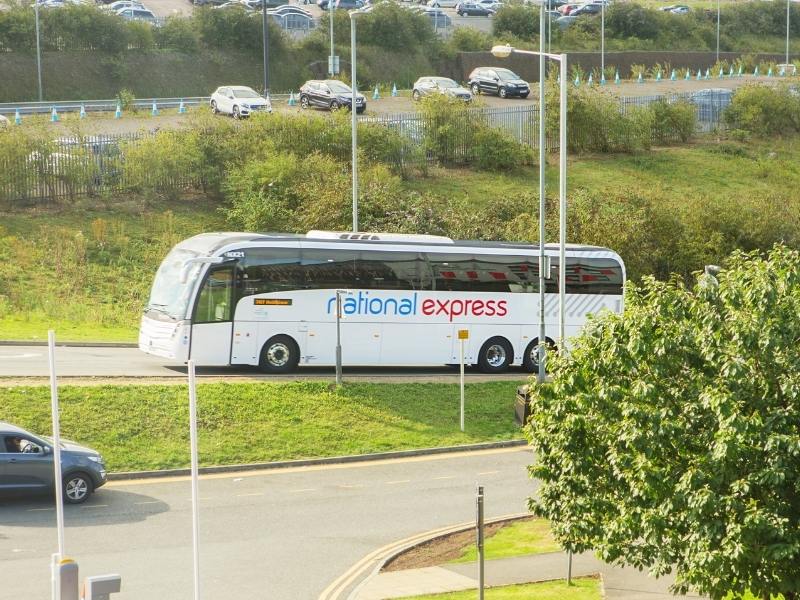 The buses or coaches that journey between the two cities generally depart from London Victoria Coach station for National Express and Megabus.
These are generally the cheapest form of travel, they also take around 9 hours, depending on roads/weather etc. The amount of luggage taken can be restrictive. You can break your journey up with this option.
Click here for ticket prices for National Express Coaches via TheTrainLine.com or Omio for ticket prices for Megabus.
London to Edinburgh by Plane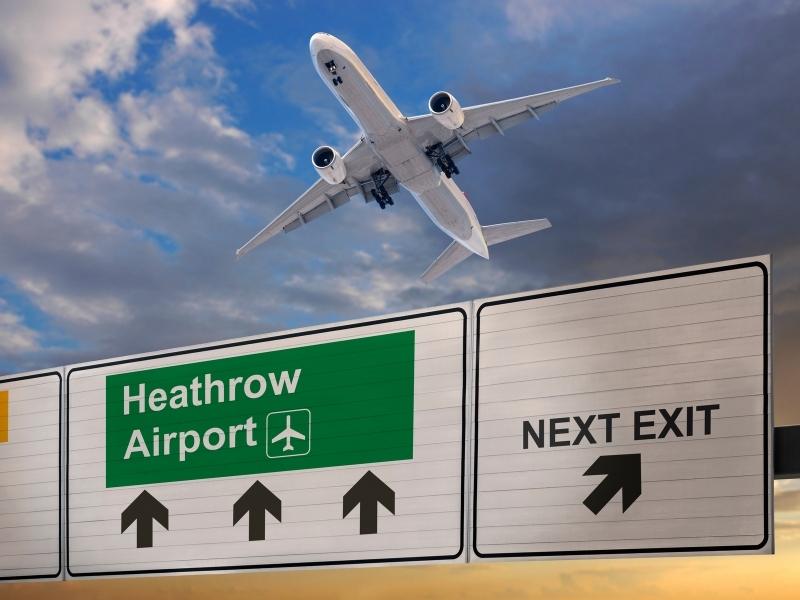 Whilst this may seem at first glance an ideal way to move between London and Edinburgh it has several logistical issues to be considered.
While it is the fastest direct line of travel (around 332 air miles once in the air) with a flight time of around 1 hour it is important to factor in the travel time to and from the airports.
The cost of the flight itself may seem reasonable but add checked baggage and costs rise. These are smaller aeroplanes used for domestic flights and weight/space is of a premium. If you have carry on only this may make flying a more cost-effective option.
One obvious disadvantage of flying is missing out on enjoying the scenery of the English countryside as you travel.
There are a number of London airports with flights to Edinburgh.
London to Edinburgh by Car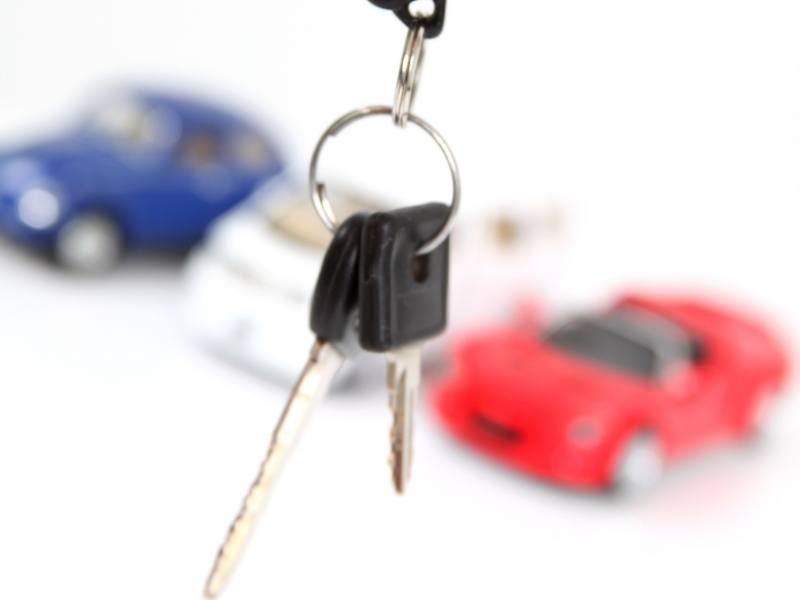 This is, of course, an option but firstly driving in London is not advised. The traffic congestion is immense and the time to even get out of London can be lengthy.
Options for car hire from the principal airports can be considered if this is a preference particularly if you wish to visit destinations along the way to Scotland.
The most direct road route is about 400miles and can take around 7 to 8 hours depending on the day/time of setting out.
Car hire obviously gives flexibility to a travel itinerary but can be demanding on time and budget (consider car hire costs plus insurances and the high cost of petrol).
Visitors not familiar with driving on the left may find it stressful. We recommend Tripiamo – an online resource which through its online guides prepares North Americans to drive in the UK. You can listen to our podcast where we chat to founder John Cortese about Tripiamo.
Good to know – Most availability for UK car hire is for manual transmission cars and not automatics. An automatic will cost more and must be booked in advance.
How will you travel from London to Edinburgh?
So there you have it – the various options to travel from London to Edinburgh (or of course how to get from Edinburgh to London if you are travelling the opposite way!) For information about what to see and do Edinburgh these articles are what you need to read:
We highly recommend stopping off along the way if you are travelling by train (and of course by car) and York would be our number one choice (followed by Durham) Read more about visiting York:
*Note
Train operators highlighted are the principal train operators on these train routes as of April 2022. Other operators are available but do not necessarily cover the entire train route between London and Edinburgh.
London Travel Guide & Itinerary Planner (+ 4 bonus ebooks)