Do you love history and need some inspiration for your travels in England? In this article, you will discover 12 of the best historical places in England to add to your itinerary including practical information to help plan your visit.
England is a country with a rich history and therefore offers many historical sites to visit. Full of castles, palaces, churches, Roman ruins and UNESCO World Heritage Sites England has it all!
In this article discover 12 of the most beautiful and interesting historical attractions in England. We have included practical tips and information which will help you plan your visit to these places with ease. If you are struggling with where to start when choosing the best historical places and landmarks in England to include in your itinerary this article will provide all the inspiration you need.
Top 12 historical places in England
1. The Tower of London
The Tower of London is one of the most well-known castles in England. It has been standing for more than 900 years and is one of the country's and London's most popular tourist attractions. Originally founded by William I it has played a massive role in the country's history for many years. It is a place of significance and is very important to England as a whole.
The tower was found by William I after he had successfully claimed the throne of England from his brother, Edward II. He first started construction on it in 1078 and finished it six years later. The first prisoners were held in the tower during the reign of Henry III, who decided to keep his rebellious brother, Prince Edward there. Since then, it has been a prison and fortress up until the present day.
The longest that anyone has spent in The Tower was Sir Walter Raleigh, who had been put into the tower on no less than 15 occasions. On one of those times, he was sentenced to death but was spared as the Queen reconsidered and decided that it wasn't worth it.
Have you ever wondered where the Crown Jewels are kept? The answer is at The Tower of London. Don't miss the opportunity to ogle some of the fabulous gold, precious stones including diamonds, rubies and sapphires and other priceless items the Queen wears during ceremonial and state occasions.
Where is the Tower of London located?
London
How much does it cost for tickets to the Tower of London?
It costs £29.90 for adults, £14.90 for children and £24.50 for concessions.
Click here to purchase your ticket for the Tower of London
What tours are available to the Tower of London?
When is it open?
The Tower of London is open every day all year round except December 24th, 25th and 26th. It opens at 9:00 or 10 am and closes between 4.30 pm and 5.30 pm depending on the season.
What is the best way to get there?
The tube station closest to The Tower is Tower Hill. It is a 5-minute walk to the entrance of the Tower of London from the station. There is step-free access to street level from the station.
The Tower of London is located 10/15 minutes walk from London Bridge mainline train station.
River boats stop at Tower Pier from various piers including the London Eye and Westminster.
All major sightseeing buses stop near the Tower of London including this London hop-on hop-off bus
Tips for visiting the Tower of London
Plan to spend at least 3 to 4 hours exploring the Tower of London
There is a cafe on the grounds but you can take your own sandwiches with you and sit on a bench to eat (we have done this!)
Look out for the legendary ravens who live at the Tower.
You will get fantastic views of the Shard and Tower Bridge from inside the grounds.
Take a private tour with a beefeater as you will learn so much more (there is a 45 minute tour with a beefeater included with a regular ticket but the groups can be quite large)
Book an earlier slot and go mid-week as it is usually quieter!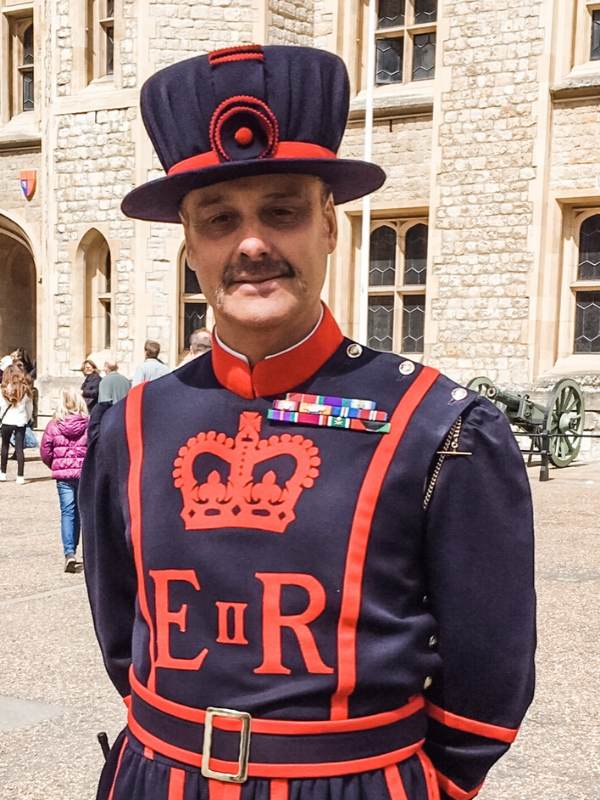 2. Winchester Cathedral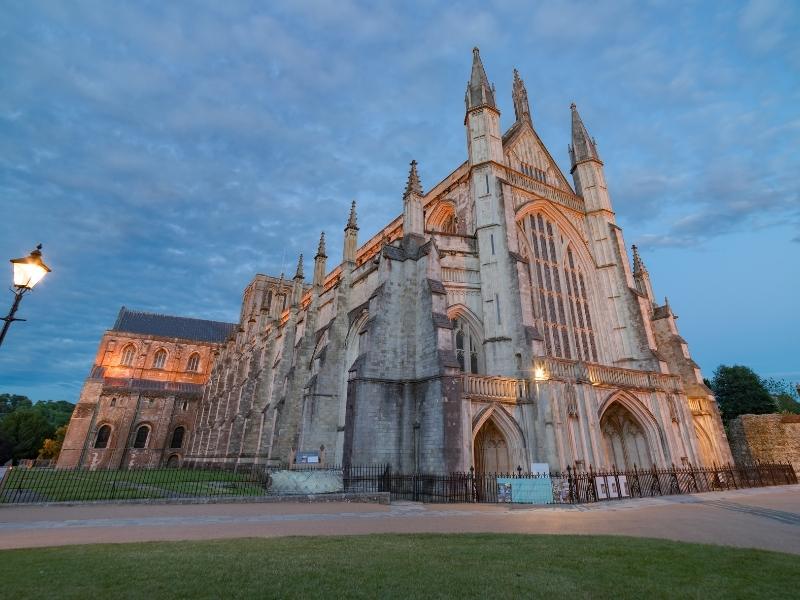 Winchester Cathedral is a beautiful cathedral and has been in use since the 11th century.
There have been at least five churches on this site before but most of what stands there today was built by William of Wykeham, Bishop of Winchester. In 1079, after his successful invasion of England William the Conqueror ordered that a new cathedral should be built and he chose to use this site.
Winchester Cathedral has been the location of many weddings and funerals over the centuries including the marriage of Henry III's daughter Mary to Prince Phillip of Spain. Many Kings are buried in the Cathedral including King Cnut.
Literary lovers may be interested to visit the grave of Jane Austen who was buried in the cathedral after her death in 1817.
Where is Winchester Cathedral located?
Winchester
How much does it cost for entry?
Adults – £9.95
Concession – £8
Student – £6.50
Children under 16 (with family – Free
When can you enter the cathedral?
The cathedral opens Monday to Saturday at 9:00 am and closes at 5 pm. On Sundays, it opens from 11:00 am and closes at 3 pm (though times may vary)
What is the best way to get there?
The closest train station is Winchester with a journey time of around an hour direct from London Waterloo. If you plan to drive to Winchester we recommend parking in one of 3 Park & Ride car parks located around the city. From there pick up a bus into the city centre. Click here to find out more about Winchester's Park & Ride schemes.
Tips for visiting Winchester Cathedral
We recommend taking a tour as this is the best way to learn about the history and significance of the cathedral.
Look out for the statue of the diver (and discover his vital role in preserving the cathedral)
Read – Winchester Travel Guide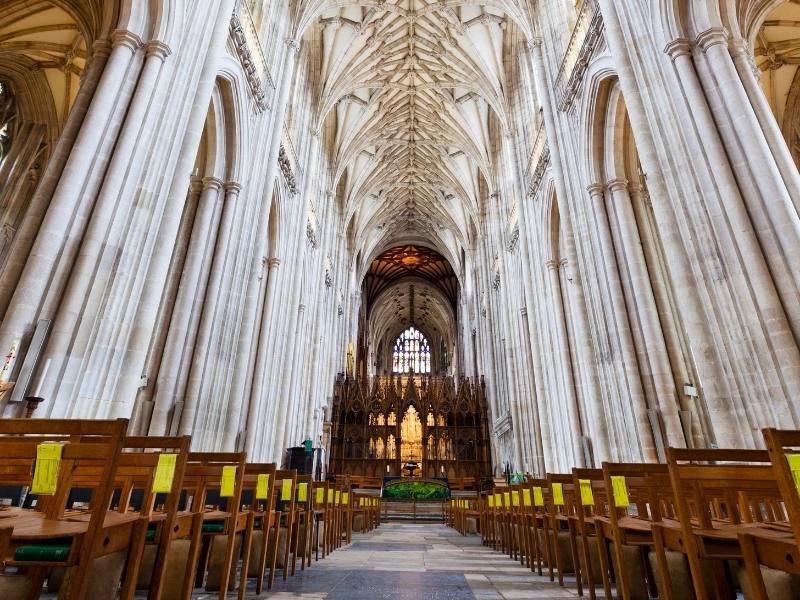 3. Tintagel Castle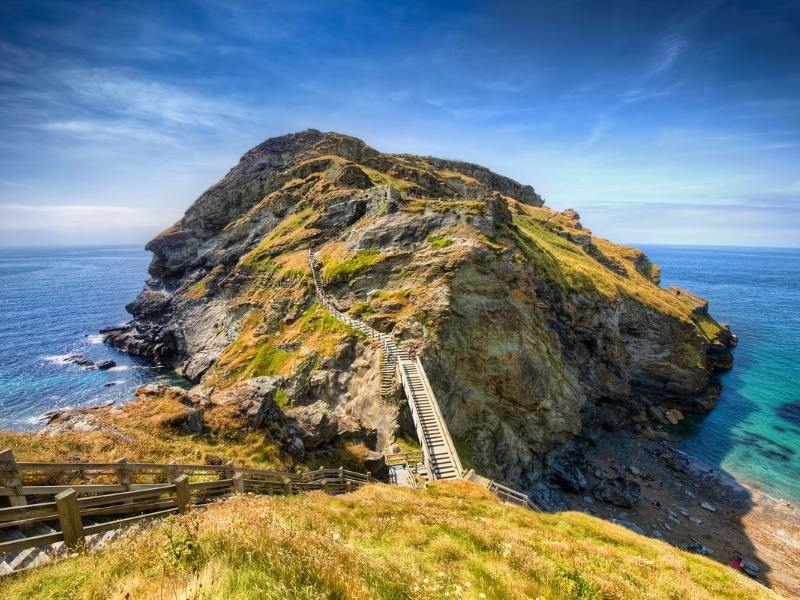 Tintagel Castle is located on the rugged cliffs of the North Cornish coast. It's said to be one of King Arthur's strongholds and according to popular legend, it would have been here that he was conceived by Igraine, his mother who had a love affair with Uther Pendragon.
The first castle was built here in around AD 800 and it is said that the mortar used to build this first castle contained a magical ingredient that would provide good luck and protection to whoever possessed Tintagel.
The current ruins date back from the 13th century when it was fortified as a residence for Richard, Earl of Cornwall, brother to Henry III.
Where is Tintagel Castle located?
Tintagel is located in Cornwall in England's south west.
How much does it cost for entry?
Adult – £16
Child (5-15 years) – £9.60
Family (2 adults and 3 children) – £41.60
Free for members of English Heritage (remember to take your card)

What are the opening times?
Tintagel Castle is open from 10 am to 6 pm throughout the year except on 24, 25 and 26 December. It's also closed on 1 January.
How can you get there?
It's possible to reach Tintagel by car, train or bus.
The nearest train station is Bodmin Parkway which is 15 miles away from Tintagel. Unfortunately to get from the train station to Tintagel takes a change of 3 buses so we recommend booking a taxi to take you as this is easier (Book in advance as there are no taxis based at the station)
Tips for visiting Tintagel
Book a ticket in advance to guarantee entry.
The ticket price does not include or guarantee car parking.
Wear comfortable shoes – there are uneven surfaces, steep slopes and steps and even sheer drops to contend with when moving around the site.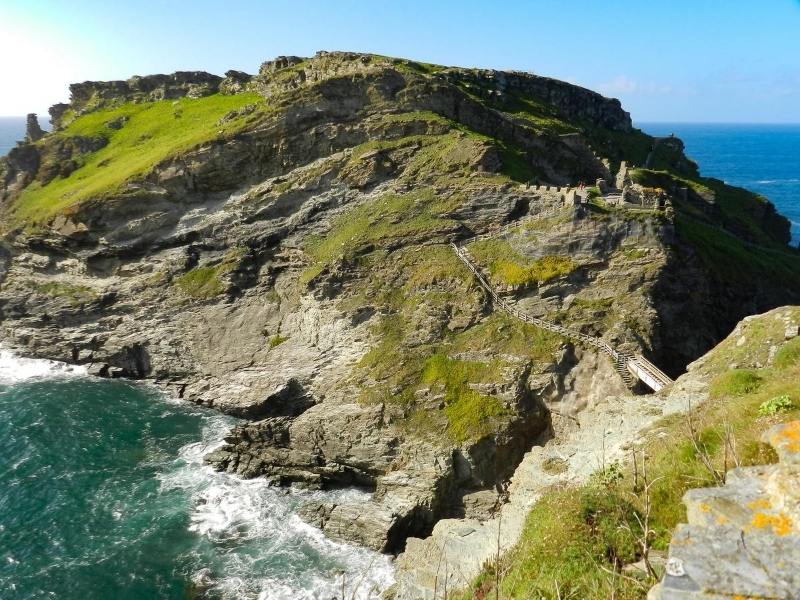 4. Windsor Castle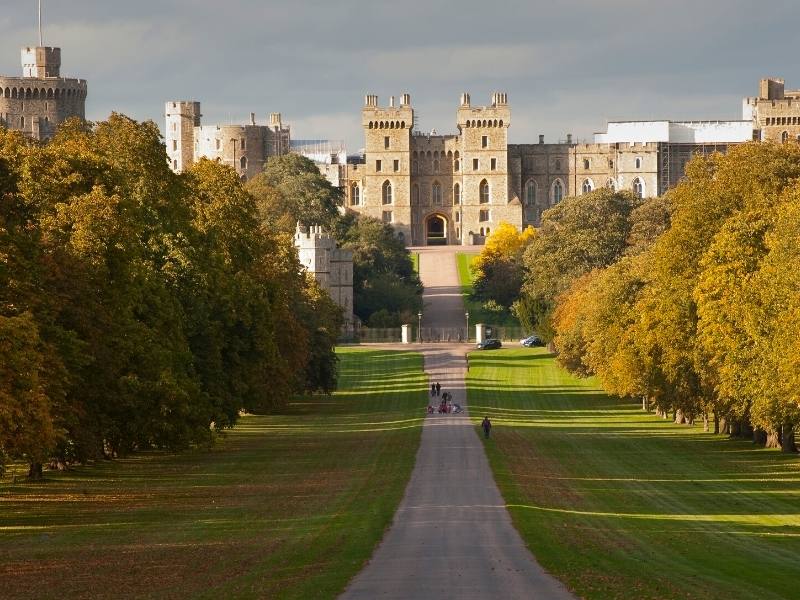 Windsor Castle is one of the largest and oldest castles in the world. Originally, it was built by William The Conqueror in around 1066AD. William was the first Norman king of England and he ordered that a castle be built on top of a large hill which would ensure complete dominance over the town below.
Windsor is now one of the Queen's official residences and receives around half a million visitors each year. It has been home to many high-profile events including the Queen's coronation in 1953.
Highlights include St George's Chapel (where many royals are wed including Prince Harry and Meghan Markle), the State Apartments, Queen Mary's Dolls House. Don't forget to visit the beautiful castle gardens and explore the castle grounds.
Where is Windsor Castle located?
It is found in the town of Windsor in the county of Berkshire.
How much does it cost for entry?
Adults – £23.50
Children (5-15 years) – £13.50
Over 60 – £21.20
Entrance to Windsor Castle is included in the London Pass.
What are the opening times?
Windsor Castle is closed on Tuesdays and Wednesdays.
Opening times vary.
March 1 – October 31 : 10 – 17:15 (last admission at 16:00)
November 1 – February 28 : 10 – 16:15 (last admission at 15:00)
How can you get there?
The closest train stations to Windsor Castle are Windsor & Eton Riverside or Slough which are both within walking distance of the castle.
Windsor is an easy day trip from London by train or if you prefer there are a number of tours which include a visit to the castle.
Recommended tours to Windsor Castle
Tips for visiting Windsor Castle
Always check before planning your visit as the Queen may have something on which can impact parts of the castle (she does spend most weekends at Windsor but it is also used for ceremonial and state events)
Don't visit on Tuesdays, Wednesdays or Sundays St George's Chapel is shut to the public) as some or all parts of the castle are shut.
Plan to see the Changing of the Guard at Windsor Castle. This occurs on Tuesdays/Thursdays/ Saturdays and Sundays at 11 am.
Read – How to get to Windsor Castle from London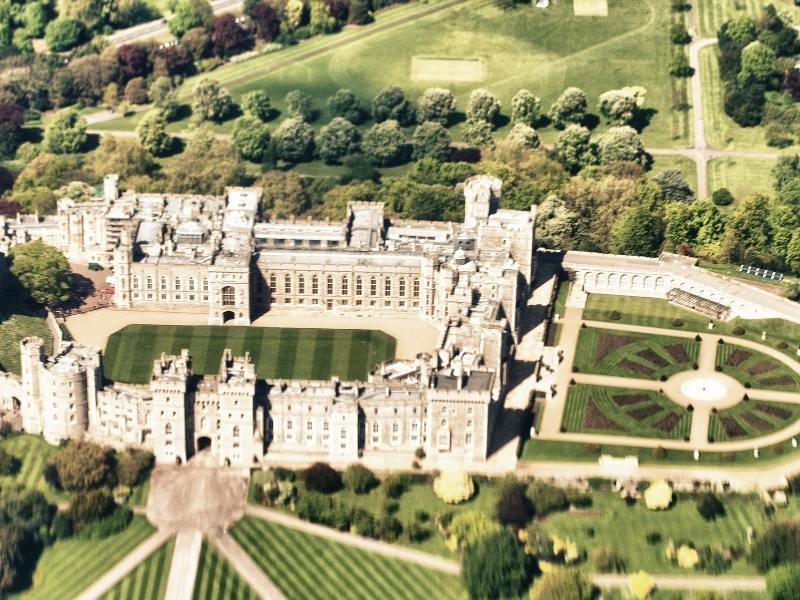 5. King's College Chapel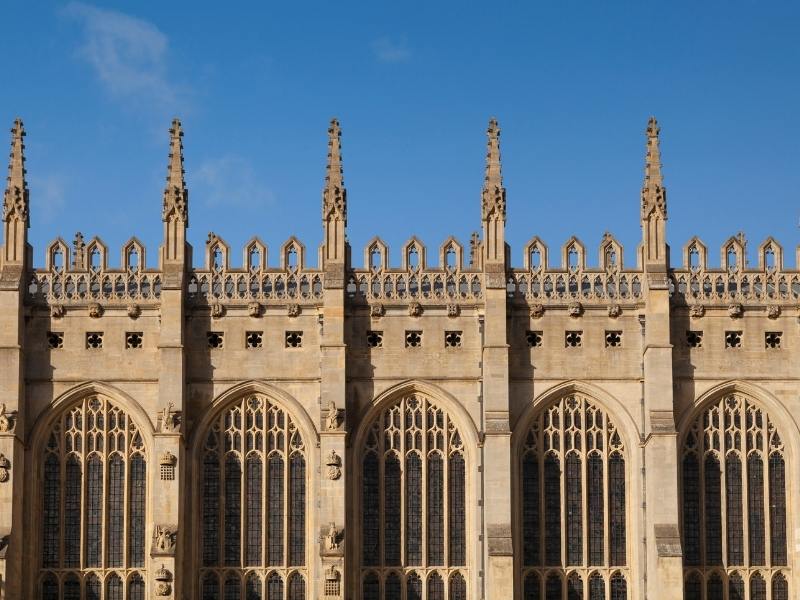 King's College Chapel is located in Cambridge. It is one of the most famous sights within the city and has become a significant landmark monument since its completion in 1532. It was built to replace an older chapel that was founded in 1446 and is now considered one of Cambridge's finest attractions.
The exterior is faced with beautiful bright limestone and has a number of impressive features including the King's College Chapel spires which are said to be among the tallest in England. It also contains some incredible stained glass windows which were built by Flemish craftsmen.
Where is King's College Chapel located?
King's College Chapell is located in the university city of Cambridge
How much does it cost for entry?
Adult – £10
Child/student – £8
Tickets are at present sold in 20-minute slots as visitor numbers are limited. These are available to purchase online but it may be cost-effective to combine a tour of Cambridge which includes entry to the chapel
What tours are available?
How can you get there?
The closest train station to King's College Chapel is Cambridge Station which is about 15 minutes walk from the chapel itself. From London, it takes just over one hour by train.
Tips for visiting Cambridge
Cambridge is a walkable city and easy to explore on foot.
Don't miss the opportunity to take a punt along the River Cam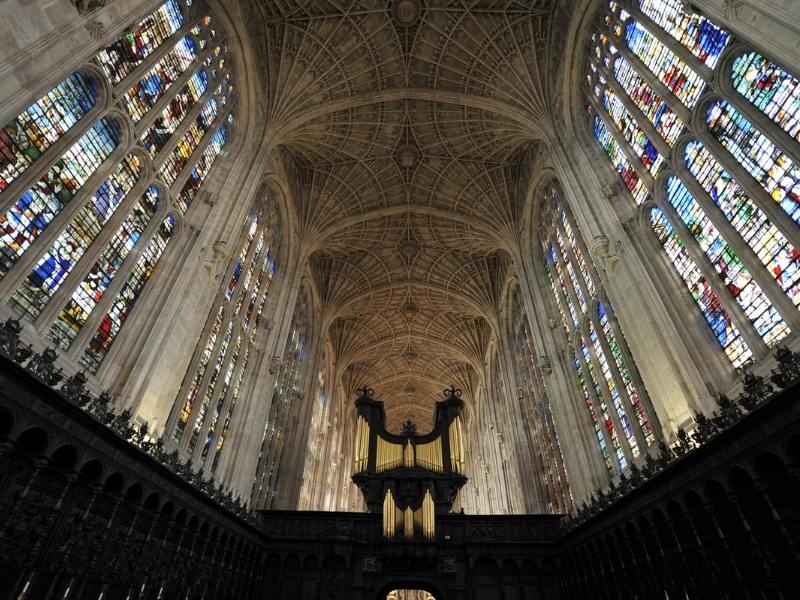 6. Leeds Castle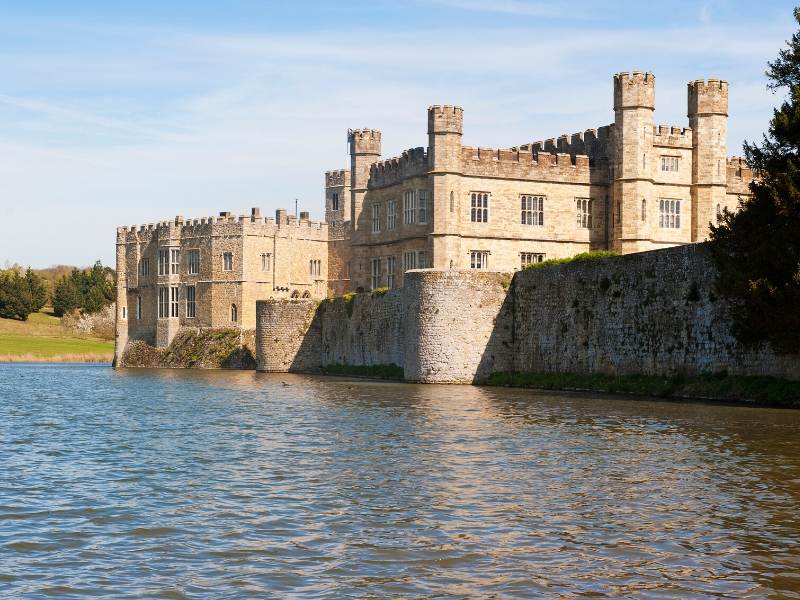 Leeds Castle is a medieval castle situated on a beautiful island near the town of Maidstone in Kent. It was built in 1119 and although it is now only a small portion of what it used to be, it remains one of the largest and most popular castles in England.
It has undergone many transformations throughout history which have seen everything from sieges to fire. It was at this castle that Henry VIII first met his sixth wife, Catherine Howard although they didn't tie the knot until many years later.
Where is Leeds Castle located?
In south east England in the county of Kent.
How much does it cost for entry?
Adult – £25.50
Children (4-15 years) – £17.50
Senior citizens £22.50
When is the castle open?
The castle, grounds and gardens have varying opening hours depending on the season. They are closed on Christmas Days and for selected other dates throughout the year. Always check on the official website prior to visiting.
How can you get there?
Leeds Castle is one of the many castles near London which are perfect for a day trip. Plan around 2 hours by train and 1 hour by car. There are tours available from London if you prefer.
Tips for visiting Leeds Castle
Check before visiting as there are lots of family-themed events that take place throughout the summer and over the year.
Why not book a stay within the castle grounds? Leeds Castle is just one of the many castles you can stay at in England.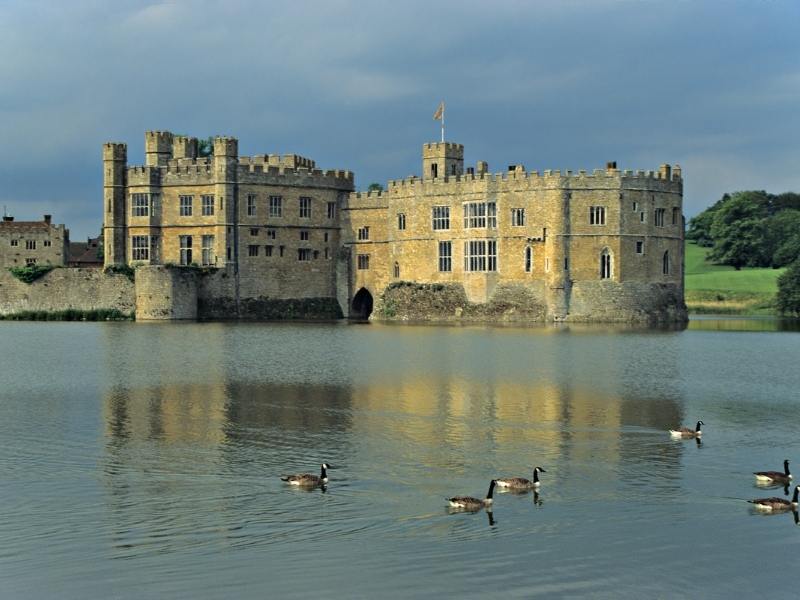 7. Stonehenge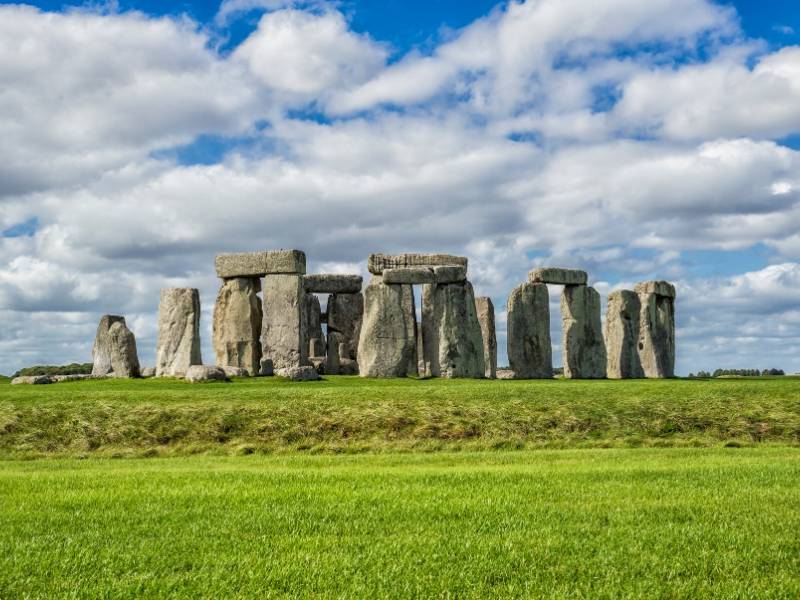 Stonehenge is one of the most famous historical places in England to visit. This ancient stone circle is located in the English county of Wiltshire, about 2 miles north west of Amesbury and near the Cathedral city of Salisbury. Stonehenge was built between 3,000 BC and 1,600 BC. Archaeologists believe that it was constructed from 3000 BC to 2000 BC.
Excavations have taken place at the site which has shown that there are at least 22 large stones there. Many of the stones were transported from Wales which was an incredible feat as they weigh around 25 tons each!
Stonehenge has also been used as an observatory for tracking movements of the sun and moon. Its astronomical purpose is something still studied today with no clear conclusions yet reached about its exact usage.
Stonehenge is particularly busy around the summer and winter solstices.
Where is Stonehenge located?
In the county of Wiltshire near the cathedral city of Salisbury.
How much does it cost for entry?
Adult – £23.30
Child (5-17 years) – £14.00
Family (2 adults and 3 children) – £60.60
Overseas visitor pass – Buy here
What are the opening times?
Stonehenge is open every day of the year except Christmas Day.
Stonehenge is a short drive from Salisbury which is about 22 miles away. It takes around an hour and 10 minutes to reach Stonehenge by car from London.
Travel by train from London to Salisbury where it is possible to pick up a bus tour to Stonehenge.
Tours available from London incorporate other popular places along the way including the Cotswolds, Bath and Windsor Castle.
Tips for visiting Stonehenge
Send some time exploring the visitor centre prior to seeing the stones as this is a great way to learn about the history of Stonehenge.
Wrap up warmly if you are visiting in winter!
It is free to visit Stonehenge on solstice days but expect it to very busy.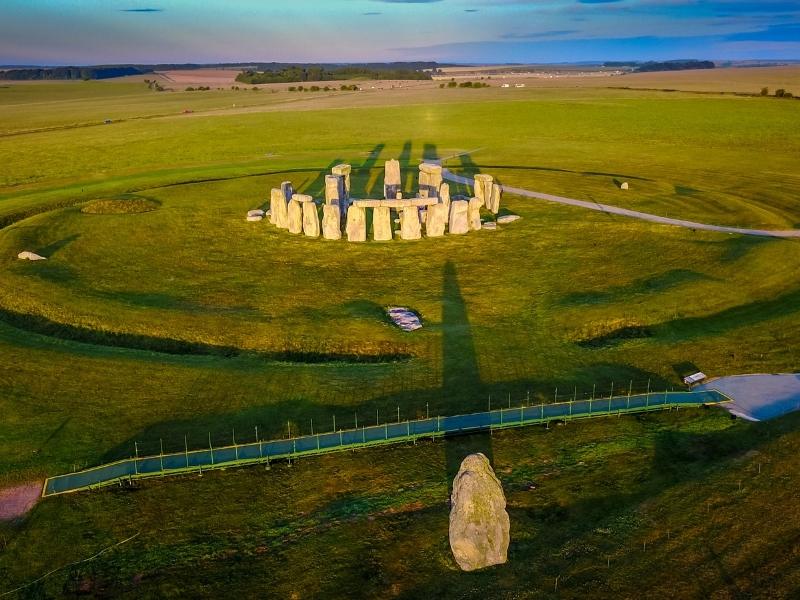 8. Hampton Court Palace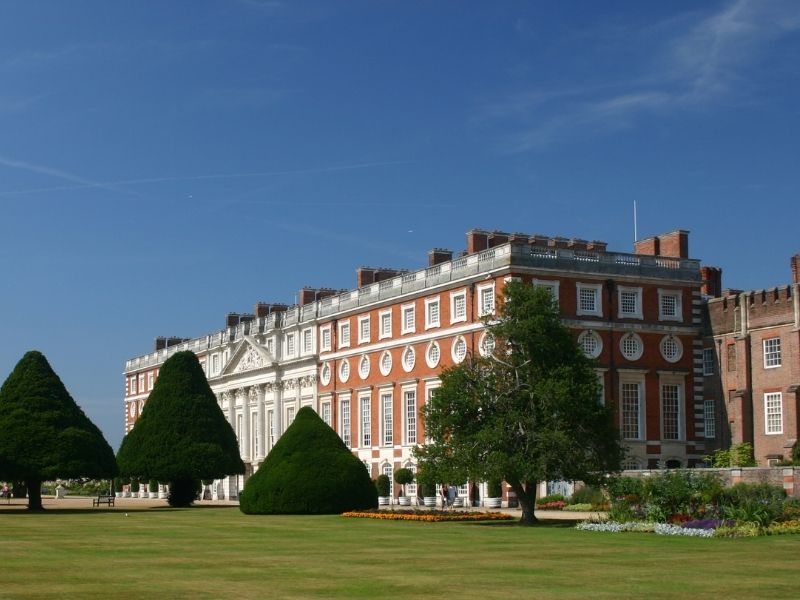 World famous Hampton Court Palace is located in South West London which makes it the perfect day trip from London. The palace was originally built by Cardinal Thomas Wolsey but was later granted to King Henry VIII whose architect, Christopher Wren, did some major remodelling of the original building.
Since then, Hampton Court has seen many royal residents including William III and Mary II, Queen Anne and George II. The palace also houses an impressive art collection that contains works by Rembrandt and Caravaggio.
Where is Hampton Court located?
Hampton Court Palace is located in south west London.
How much are tickets for Hampton Court?
Adults – £25.30
Children (5-15) £12.60
Entry to Hampton Court is included in the London Pass.
When can you visit the castle?
Opening times and hours vary in summer and winter. The Palace is shut on 24/25/26 December.
How can you get to Hampton Court?
It's easy to get to Hampton Court Palace from central London which makes it a popular day trip.
Take the train from Waterloo Station. The journey takes around 45 minutes. It is a 5-minute walk from the station to Hampton Court.
It is possible to combine a visit to Hampton Court with Windsor Castle and see both places in one day trip.
Tips for visiting Hampton Court Palace
Plan to spend the day to really enjoy everything Hampton Court has to offer! Enjoy a stroll beautiful around the gardens and grounds
Wear comfortable shoes as you will be doing a lot of walking.
Learn about the history of the building from the guides as you explore.
Keep an eye out for a ghost. The Palace is supposed to be haunted by Catherine Howard amongst others!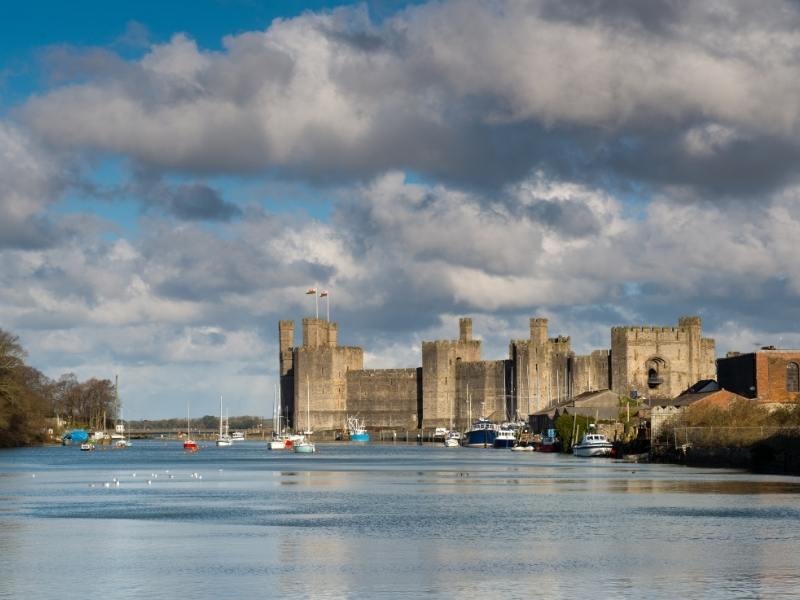 9. Hadrian's Wall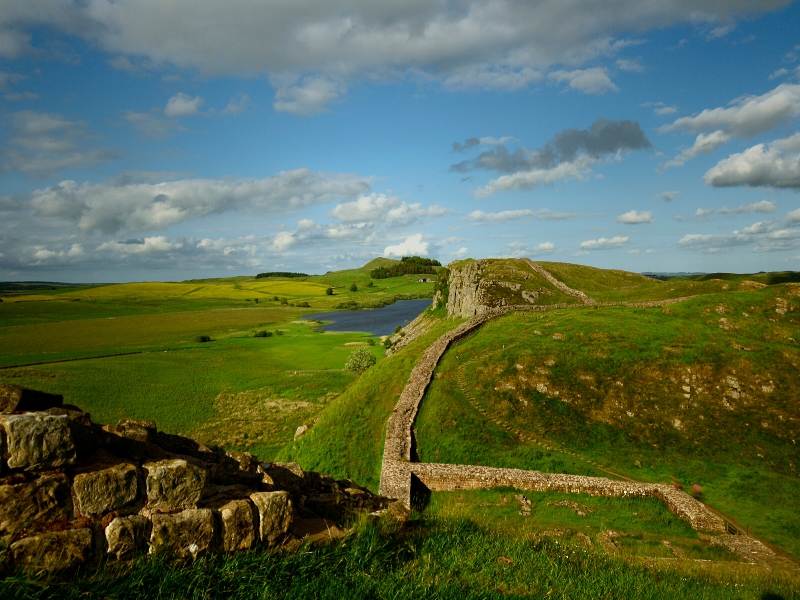 Hadrian's Wall was a defensive wall that formed the northernmost boundary of the mighty Roman Empire.
It runs from coast to coast for around 80 miles and was built by Emperor Hadrian in around 123 AD. The name derives from the fact that it is thought to have been constructed using orders from Hadrian himself.
It is still possible to explore a lot of what remains of this wall today which makes it one of the most popular historical attractions in England.
Where is Hadrian's Wall located?
Hadrian's Wall runs from coast to coast for around 80 miles across northern England bordering Scotland.
How much does it cost for entry?
There is no cost to see the wall although there are charges to visit specific historical sites such as Segedunum and Housesteads Roman Fort.
When can you visit the wall?
Hadrian's Wall is open throughout the year from dawn to dusk and it's not closed on any specific dates.
The best time to visit Hadrian's Wall is in spring or summer when it attracts hundreds of visitors who enjoy walking, cycling and horseback riding along this historical landmark.
How can you get there?
The best way to travel to Hadrian's Wall from London is by train to Newcastle. Hire a car from Newcastle train station and take a road trip around Northumberland.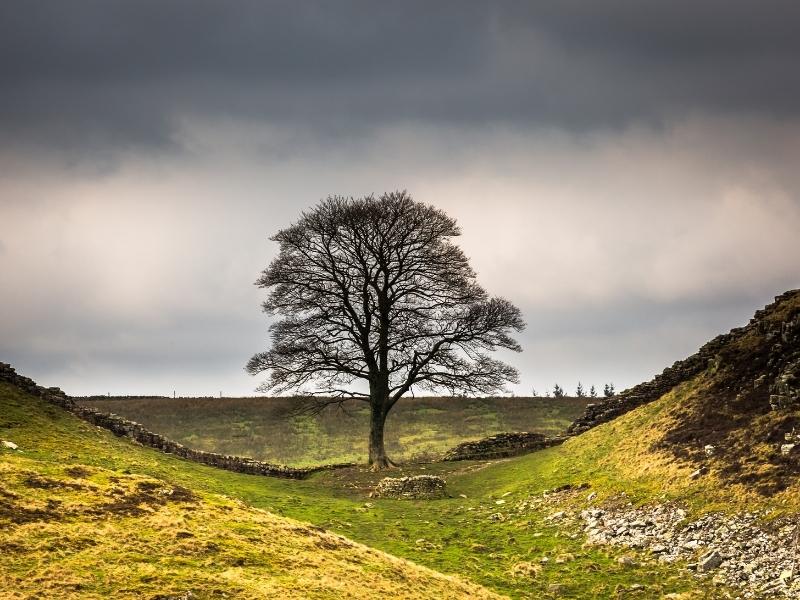 10. Canterbury Cathedral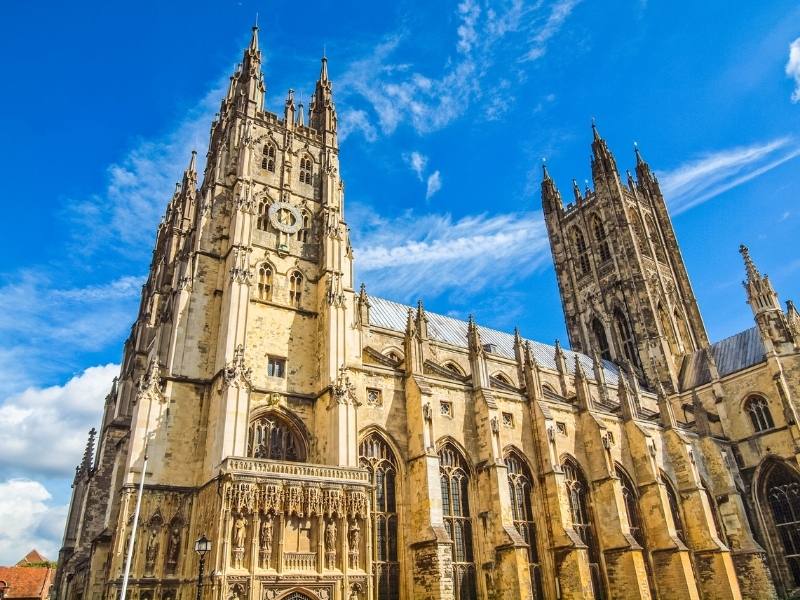 Canterbury Cathedral is not only one of the most popular historical attractions in England its is also a UNESCO World Heritage Site. This Christian church was constructed over the ruins of a previous place of worship, making it one of the oldest religious sites in England and in Europe.
The cathedral dates back to between 597 and 604 when St Augustine came from Rome to convert the pagan Anglo-Saxons residing in Britain to Christianity.
It remained a place of great importance throughout history with many kings and other members of the royal family being buried there over time. It is considered to be one of the finest cathedrals in England due to its distinctive architecture, age-long history and also for its rich collections which include some important artefacts.
Where is Canterbury Cathedral located?
Canterbury Cathedral is located in Canterbury, Kent.
How much does it cost for entry?
There is no admission fee to enter the cathedral and its grounds.
When can you visit the cathedral?
The cathedral is open daily from 8:30 am to 6 pm with the last entry being an hour before closing time. It's closed on 24, 25 and 26 December.
How can you get there?
The easiest way to reach Canterbury Cathedral from London is by train from London Liverpool Street or Victoria. The journey takes between one hour and 40 minutes and two hours.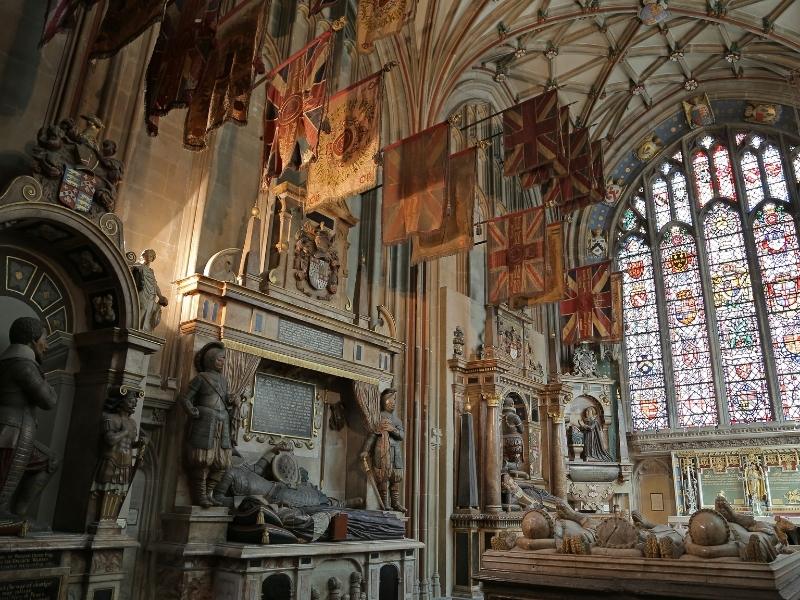 11. Roman Baths in Bath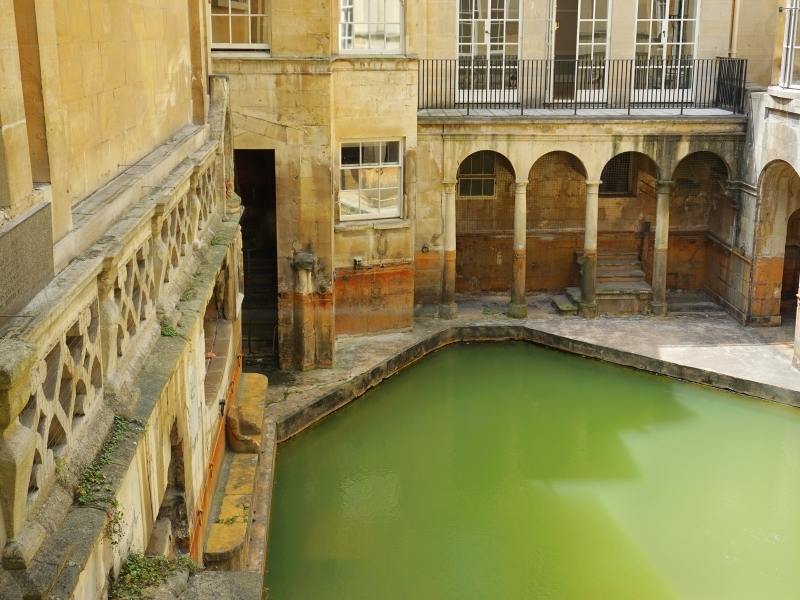 The Roman Baths were constructed over 2000 years ago and are one of the best-preserved ancient buildings in the world.
The baths were built using Bath stone and were in use for around 500 years until they fell into disrepair and eventually collapsed. The Romans left this incredible site behind but it wasn't discovered until much later when people started digging up the area in search of artefacts.
The baths are open to visitors today who can see the same rooms that the ancient Romans would have used. It is one of the main tourist attractions in the city and any visitor to Bath will want to see it as it really brings history alive.
When visiting Bath don't miss some of the other historical attractions including Bath Abbey, the Royal Crescent and Poultney Bridge which spans the River Avon.
Where are the Roman Baths located?
The baths are located in the historic city of Bath (the entire city is a UNESCO World Heritage site)
How much does it cost for entry?
The cost of entry is
When can you visit the Roman Baths
The Roman Baths are open
How can you get there?
Bath is an easy day trip from London by train or you can combine it with a tour.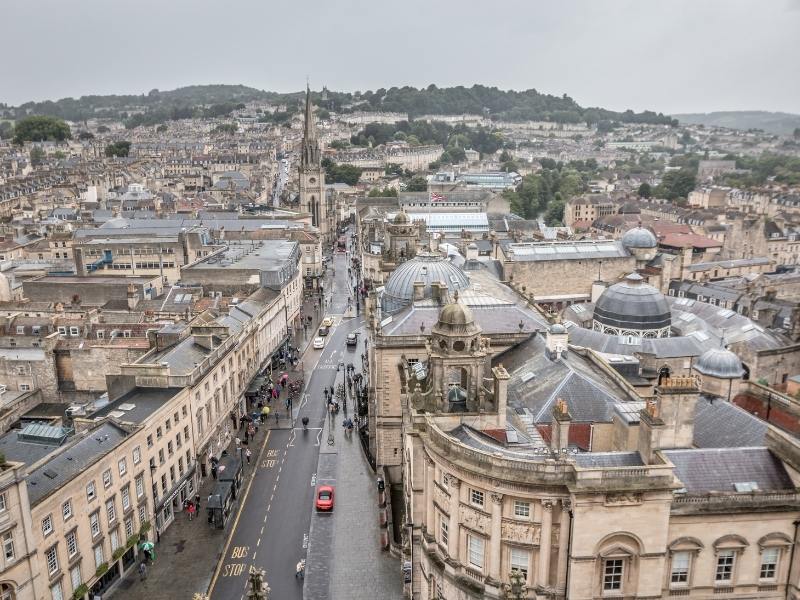 12. The Shambles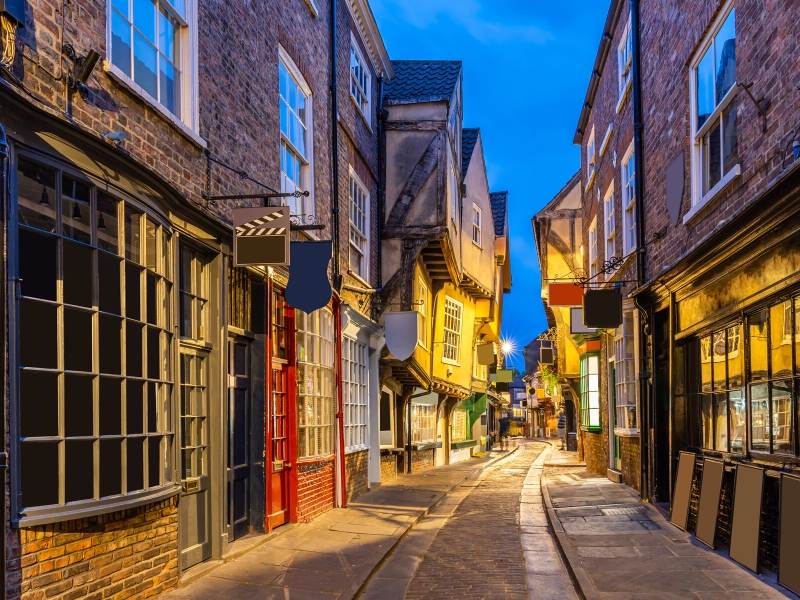 The Shambles is a famous medieval street in York, England. It is a small street with rows of Tudor-style houses with overhanging upper stories. The houses are very narrow and tall but it looks extremely pretty from the outside.
There are many cafes and quirky shops to visit along the street including the famous Harry Potter shop where you can even park your broom outside!
Where is The Shambles?
The Shambles is located in the northern city of York.
How much does it cost for entry?
Free entry, although there are gift shops along the way where you can buy souvenirs.
How can you get to York?
York is the perfect destination if you are taking a train trip around the UK. It can also be visited on a day trip from London (at a push) but is best visited for a few days as there is so much to do and see in York.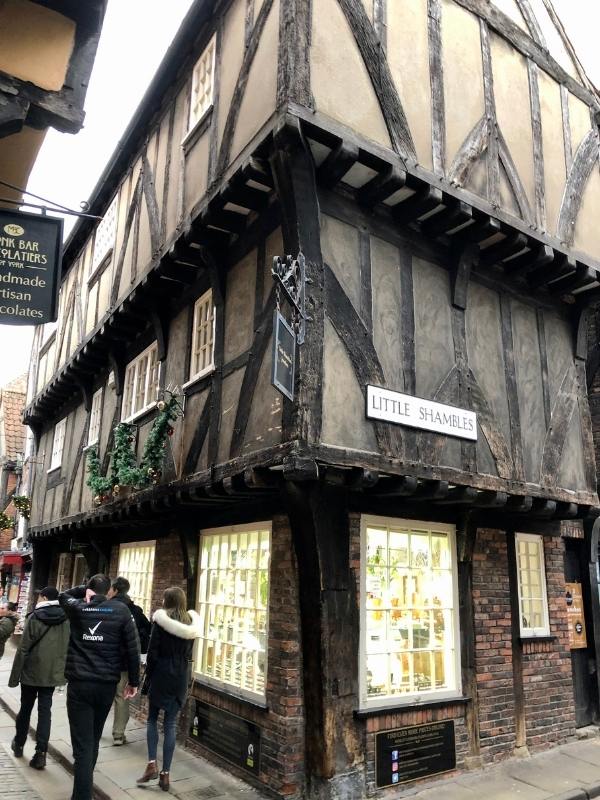 Honorary mentions
There are so many wonderful historic destinations to visit in England that choosing only 12 for this article was extremely difficult.
The following places deserve to be mentioned too and worth adding to your UK travel itinerary if possible:
Warwick Castle is one of England's most popular castles. Over the summer months events such as jousting are held.
Stratford-upon-Avon which was the birthplace of William Shakespeare
The sumptuous Brighton Pavilion located in Brighton on the south coast of England
See the best of England
Our dedicated travel guides to popular destinations in all regions of England are a great place to start when planning your travels.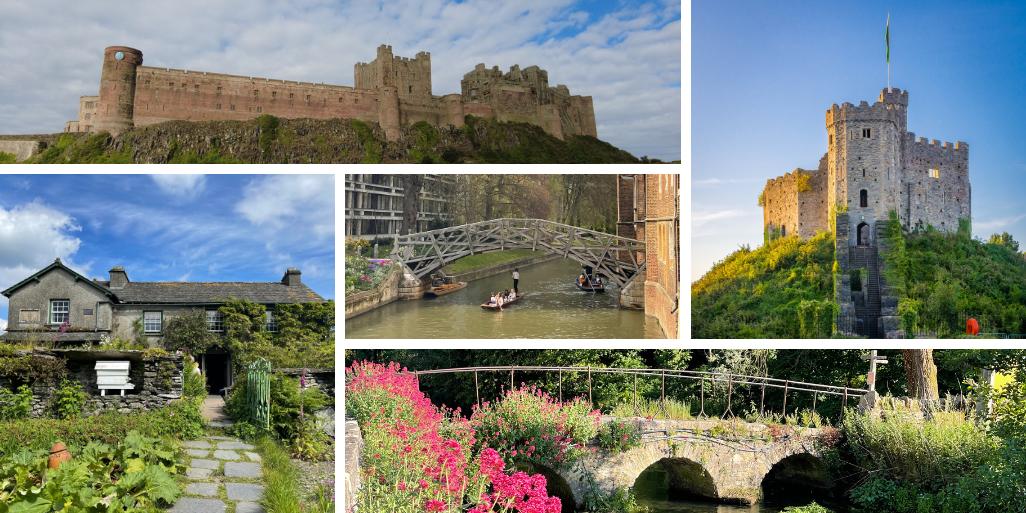 UK Road Trip Itinerary Planner | The 7 Best Routes
If you love to take to the wheel and you'll be visiting the UK at some point in the future,…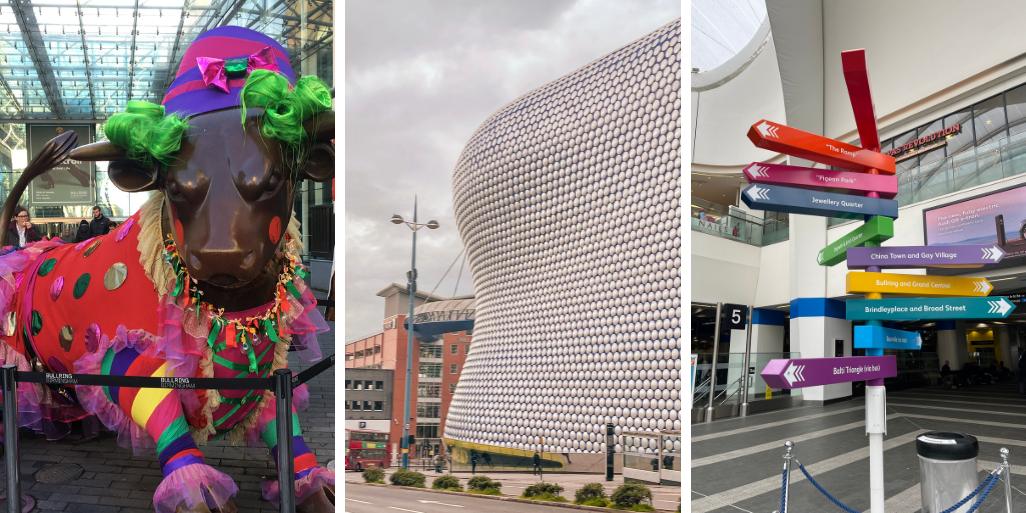 Our Birmingham Travel Guide includes recommended places to visit and things to do, accommodation options, tips and more for this popular Midlands…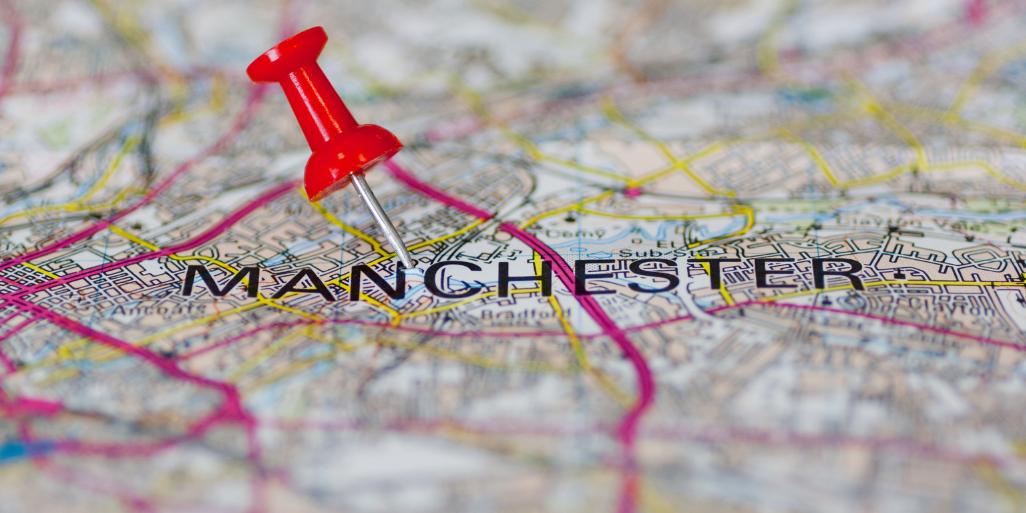 Our Manchester Travel Guide includes recommended places to visit and things to do, accommodation options, tips and more for this popular northern…
Find more inspiration for your travels in my England Travel Guide which includes information about what to see, where to stay, how to get around, travel tips, recommended reading and more to make the most of your trip.